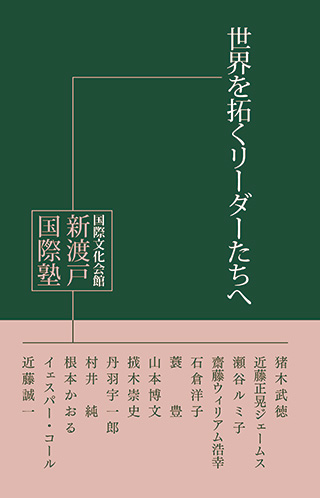 Sekai o Hiraku Rida Tachi e
[Messages for Young Leaders in a Global Age]
Edited by Nitobe Kokusai Juku,
International House of Japan
Japanese edition / 2015
296 pages / paper
ISBN 978-4-903452-26-5
1,100 yen / Discount rate*: 770 yen (inclusive of tax)
*Discount rates are applicable for IHJ members.

This volume is a collection of lectures mainly from the 2013–14 Nitobe Kokusai Juku. The 13 lecturers from various fields talked about what we can do for a better society and future based on their own experiences and hard-won wisdom.
The Nitobe Kokusai Juku was launched in 2008 to foster a new generation of leaders committed to enhancing the public interest from a broad perspective and able to function in an international environment.
Lecturers of the Nitobe Kokusai Juku include:
Inoki Takenori (Professor, Aoyama Gakuin University)
"How Can We Defend Democracy?"
Kondo Masaakira James (Chairman, Twitter Japan)
"What is the Meaning of Work?"
Seya Rumiko (Chairperson, Japan Center for Conflict Prevention)
"How to Make Peace"
William H. Saito (President and CEO, Intecur, K.K.)
"Giving Back to the Japanese Economy"
Ishikura Yoko (Professor Emeritus, Hitotsubashi University)
"What is Your Leadership Style?"
Mino Yutaka (Director, Hyogo Prefectural Museum of Art)
"Revolution to Attract More Visitors: Museums Changing Cities"
Yamamoto Hirofumi (Professor, Historiographical Institute, University of Tokyo)
"Bushido: The Soul of Japan and the Japanese"
Motegi Takahito (Chief Human Resource Officer, BOLBOP Inc.)
"The Most Important Things in Leadership"
Niwa Uichiro (Former Japanese Ambassador Extraordinary and Plenipotentiary to the People's Republic of China)
"China's Prospects and Japan's Future"
Murai Jun (Dean/Professor, Faculty of Environment and Information Studies, Keio University)
"The Building of an Internet-based Society Toward 2030"
Nemoto Kaoru (Director, United Nations Information Centre)
"To Deliver Voices from the United Nations"
Jesper Koll (Managing Director and Head of Japanese Equity Research, JPMorgan Securities Japan Co., Ltd.)
"Toward a New Japanese Golden Age―Economic Potential, Social Dynamics, and Policy Challenges"
Kondo Seiichi (Former Commissioner for Cultural Affairs)
"A Day for Japan to Lead the World Again—Empowerment by Culture"
Praise for this volume: