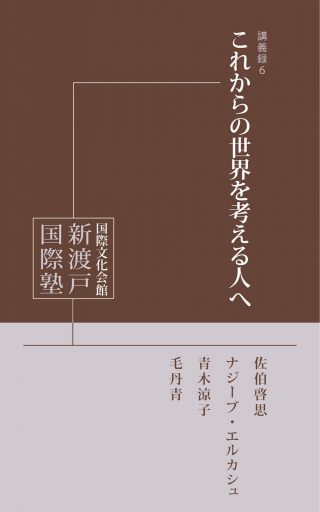 Korekara no Sekai o Kangaeru Hito e
[Messages for Young Leaders Who Will Be Shaping the Future]

Edited by Nitobe Leadership Program,
International House of Japan
Japanese edition / 2018
e-published from Kindle
550 yen (inclusive of tax)
print-on-demand copy
1,100 yen (inclusive of tax)
Available for purchase through Amazon Store.


A new volume in the Nitobe lecture series was e-published in November 2018. In this volume of lectures for the 2017 Nitobe Leadership Program, four lecturers from a range of fields have delineated a new framework/order for a new era based on their own experiences and hard-won wisdom. (Available only in Japanese)
The Nitobe Leadership Program was launched in 2008 to foster a new generation of leaders committed to enhancing the public interest from a broad perspective and able to function in an international environment.
The lecturers of the Nitobe Leadership Program included in this volume are:
Saeki Keishi (Professor Emeritus, Kyoto University)
What is "Democracy"?
Najib El-Khash (Journalist / President of Risala Media Productions)
"Ideals" and "Reality" in Syria: Seeking Freedom and Peace
Aoki Ryoko (Noh Performer / Contemporary Music Artist)
From Tradition to Future: Opening the World with Noh and Contemporary Music
Mao Danqing (Writer / Professor, Kobe International University)
A Door of Hope Opened by Wisdom: A New Japan-China Relationship with the Next Generation