[An edited version of this lecture is available in the IHJ Bulletin, Vol.30, No.2, 2010.]
Date: Tuesday, July 6, 7:00 pm
Speaker: Hamada Koichi, Tuntex Professor of Economics, Yale University
Moderator: Robert Dujarric, Director, Institute of Contemporary Asian Studies,
Temple University, Japan Campus
Venue: Lecture Hall, International House of Japan
Admission: Free
Language: English (no Japanese translation provided)

*This program is organized in cooperation with the Institute of Contemporary Asian Studies, Temple University, Japan Campus
Recent financial crises around the world, such as the subprime mortgage crisis in 2007, the Lehman Brothers shock in 2008, and the current debt crisis of Greece, have all dramatically illustrated the vulnerability of corporate and state financial policies and the strong interdependence of economies. Monetary authorities of major countries counteracted these shocks to prevent adverse effects on their own economies by expanding money supply and real exchange devaluations. In this program, Prof. Koichi Hamada, who was once involved in policy making in Japan, will explain the background of the recent financial crises, his thoughts on the role and the recent policies taken by the Central Bank, and his solution to save the Japanese economy from this current global financial crisis.
Hamada Koichi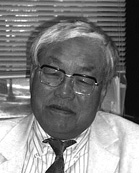 Hamada Koichi: Born in 1936, specializes in the Japanese Economy and International Economics. Before going to Yale in 1986, he taught at the University of Tokyo. Prof. Hamada, who earned an LL.B. and M.A. in Economics (University of Tokyo), and M.A. and Ph.D. in Economics (Yale University), has held prominent positions such as the first President of the Economic and Social Research Institute (Keizai Shakai Sogo Kenkyujo), Cabinet Office of the Japanese Government, from 2001 to 2003. He advised the Council on Economic and Fiscal Policy (Keizai Zaisei Shimonkaigi), a body created to promote administrative reform chaired by former Prime Minister Koizumi. He also served as a member of the external evaluation team of the Enhanced Structural Adjustment Facility (ESAF) Program of the IMF and was a member of an advisory group for the Director General of the WTO. Currently he is conducting research on comparisons of the political economy process of determining monetary policies in Japan and the United States on the Abe Fellowship program.
Robert Dujarric
Robert Dujarric: Born 1961 in Paris. Graduate of Harvard College, holds an MBA from Yale University, Has worked in The First Boston Corporation, and Goldman Sachs. He was a Council on Foreign Relations Hitachi Fellow at RIETI, and Visiting Research Fellow, Japan Institute of International Affairs (Nihon Kokusai Mondai Kenkyusho). Major publications include America's Inadvertent Empire (Yale University Press, April 2004, with W.E. Odom).