Lecturers: Geeta Mehta, Adjunct Professor, Columbia University
Deanna MacDonald, Art and Architecture Historian
Moderator: Edward Suzuki, Architect
Date: Wednesday, September 28, 2011, 7:00 pm-
Venue: Iwasaki Koyata Memorial Hall
Admission: Free
Language: English (no Japanese translation provided)
Today Japanese architecture remains at the forefront of global trends: pure white cubes, daring forms, technological innovation and, now more than ever, the move towards a more sustainable architecture, in which the techniques and forms of traditional Japanese architecture are informing a whole new generation of cutting-edge design worldwide. Based upon their newly released book New Japan Architecture (Tuttle Publishing, 2011), in this lecture, Dr. Mehta and Dr. MacDonald, will talk about some of the best examples of recent residential, public and commercial architecture in Japan, while tracing the emergence of important future trends.
Geeta Mehta: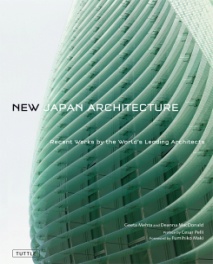 Adjunct Professor of Architecture at Columbia University in New York, and Partner of Braden & Mehta Design. Received her Ph.D. from the University of Tokyo, and an M.S. in architecture and urban design from Columbia University. Her major publications include Japan Style (Tuttle Publishing, 2005), Japan Houses (Tuttle Publishing, 2005), Japan Living (Tuttle Publishing, 2008), and Japan Gardens (Tuttle Publishing, 2008).
Deanna MacDonald:
Canada-born art and architecture historian and writer living in Tokyo. Received her M.A. from the Central European University in Budapest and a Ph.D. from McGill University in Montreal, Canada, in medieval and renaissance art and architecture. Her interdisciplinary research into culture and heritage has produced books on art and architecture in Prague, art in New York and Paris and, most recently, in Japan.
Edward Suzuki:
After graduating Harvard University, Edward Suzuki worked for Buckminster Fuller and Sadao Inc., Isamu Noguchi Studio, and Kenzo Tange Associates. In 1977, he founded his own firm and has won many awards, including Japan Architects Association's House of the Year Award and Good Design Award from the Ministry of Economy, Trade, and Industry.