Lecturer: Tom Haar, Photographer
Date: Friday, September 7, 2012, 7:00 pm-
Venue: Lecture Hall, International House of Japan
Language: English (without Japanese interpretation)
Admission: Free

(reservations required)

Karuizawa is well-known among the Japanese as a popular summer resort town for the rich and famous. The town is located in the highlands northwest of Tokyo, offering much cooler summers than in the cities. During the Second World War, however, it served as an evacuation center where foreign nationals were interned for the duration of the war. Thus, the name Karuizawa evokes a different meaning for those foreign residents of Japan who were forced to survive on meager rations and freezing temperatures in houses not insulated against the cold. Tom Haar spent his early childhood there with his family. His parents, both natives of Hungary, arrived in Japan from France in 1940, when his photographer father, Francis Haar, was invited to Japan on a Kokusai Bunka Shinkokai (now Japan Foundation) grant. Mr. Tom Haar's talk will be supplemented with a Powerpoint presentation delving into the research and photographs conducted under a 2008 Fulbright grant, which resulted in the "Karuizawa Dreamscape" exhibition, shown earlier in Hawaii, and to be shown at the Karuizawa Tourist Information Center gallery from August 7-26 and at Gallery Past Rays in Yokohama from August 31 – September 28. Through impressionistic images taken in Karuizawa, with a focus upon trees imbued in the continuum of and memories of the time, this visual presentation provides us with an opportunity to ponder over the meaning of Karuizawa as a bridge between Japan and other countries.
Tom Haar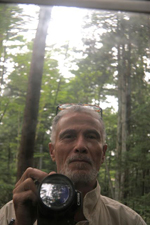 Born in Tokyo in 1941. Earned an MFA in Visual Design from the University of Hawaii. Taught photography at the University of Hawaii, Tsukuba University, and Seoul Institute of the Arts. Engaged in advanced studies under fellowships from the Japan Foundation, Asian Cultural Council, US-Japan Educational Commission, and Ishibashi Foundation. Exhibitions of his works have been held in the United States, Japan, Korea and Hungary. His publications include Francis Haar: A Lifetime of Images (University of Hawaii Press, 2001) and the catalog Karuizawa Dreamscape (Windward Community College, Hawaii, 2012). The documentary film Festival at Mizumi, which he produced and directed in 1979, was shown at I-House in early 1980.