*This lecture has finished.

Lecturer: Watanabe Hiroshi (Professor, Hosei University)
Moderator: Bettina Gramlich-Oka (Associate Professor, Sophia University)
Date: Wednesday, September 10, 2014, 7:00-8:30 pm
Venue: Lecture Hall, International House of Japan
Language: English (without Japanese interpretation)
Admission: Free (

reservations required

, seating: 140)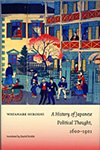 Even before the industrial revolution Japan in the Tokugawa era had a developed economy and commerce. The literacy rate was quite high and the publishing of books was active. Yet because of the hereditary status society, the samurai class ruled and academics and intellectuals did not have a high rank nor power. In this society, Confucianism, an orthodox theory from neighboring countries (China and Korea), which argued that intellectual moral elites should rule, gradually diffused. Naturally this brought a big change ideologically and politically. The dramatic Meiji Revolution and the import of "civilization" from the West were some of the results. Prof. Watanabe will provide a concise but wide-ranging introduction to the intellectual history of Tokugawa and Meiji Japan.
(Image: Book cover of A History of Japanese Political Thought 1600-1901)
Watanabe Hiroshi
Watanabe Hiroshi is Professor at Hosei University and Professor Emeritus at the University of Tokyo specializing in the history of Japanese and Asian political thought. He is also chairman of the board of the University of Tokyo Press. His publications include Higashi Ajia no oken to shiso [Confucianism and After: Political Thought in Early Modern East Asia] (University of Tokyo Press, 1997), Tokubuiru to demokurashii no genzai [Tocqueville and Democracy Today] (University of Tokyo Press, 2009; coauthor] and A History of Japanese Political Thought 1600-1901 (I-House Press, 2009).