This event now concluded. Report available here.
Speakers: Charles Rockefeller (Trustee, Asia Society), and others
Date: Saturday, March 31, 2018, 14:00–17:30
Venue: Iwasaki Koyata Memorial Hall, International House of Japan
A forum will be organized to kick off APYLP in March 2018. It will revisit the visionary work that John D. Rockefeller III undertook in the post-World War II era to strengthen ties across the US, Japan, and other Asian countries. Representatives from institutions that John D. Rockefeller III helped establish or headed, such as the International House of Japan, Asia Society, the Maureen & Mike Mansfield Foundation, and the Raman Magsaysay Award Foundation, as well as other institutions in the Asia Pacific that share the similar mission, will be invited to discuss the historical lessons from those efforts and their relevance to the present-day world.
Speakers (In order of appearance):
Yoshimasa Hayashi (Minister of Education, Culture, Sports, Science and Technology)

After working in the private sector, Mr. Hayashi worked in the U.S. for Senator William Ross where he engaged in drafting the Mansfield Fellowship Act. First elected to the House of Councillors in 1995, he formerly served as Parliamentary Vice-Minister of Finance, Senior Vice-Minister of Cabinet Office, Minister of Defense, Minister of State for Economic and Fiscal Policy, Minister of Agriculture, Forestry and Fisheries, and Chairman of Special Committee on the TPP. Mr. Hayashi graduated from the University of Tokyo and holds an MPA from the John F. Kennedy School of Government, Harvard University.
James Kondo (Trustee, I-House)

Mr. Kondo is a technology executive, social entrepreneur, and academic and policy expert. He was formerly Vice President of Twitter Inc. and is currently Co-Chairman of the Silicon Valley Japan Platform, Visiting Professor at Hitotsubashi University and President of the Asia Pacific Initiative Foundation. Mr. Kondo was selected as the Young Global Leader, Asia21 Fellow, Fellow of the US-Japan Leadership Program, and Inamori Fellow. Mr. Kondo graduated from the Harvard Business School, and was a Yale World Fellow. He is a steering committee member of the Nitobe Leadership Program.
<Panel 1>
Aiko Doden (Special Affairs Commentator, NHK, Japan Broadcasting Corporation)

Ms. Doden has expertise in reporting on a wide range of global issues from hard security to human security. As a commentator, she covers Southeast Asia, Japan-US relations and Japan's foreign policy. Ms. Doden is a popular face on TV, having anchored key news program such as "NHK Good Morning Japan," "NHK News at 9 PM," "NHK World Network" and "NHK Asian Voices." She was a correspondent based in Thailand extensively covering ASEAN countries. She holds an MA from Columbia University.
Daniel Russel (Diplomat in Residence and Senior Fellow, Asia Society Policy Institute)

Mr. Russel joined the Asia Society Policy Institute as Diplomat in Residence and Senior Fellow in 2017. He most recently served as the assistant secretary of State for East Asian and Pacific Affairs. Prior to this, he had served at the White House as special assistant to the President and National Security Council (NSC) Senior Director for Asian Affairs, where he helped formulate President Obama's strategic rebalance to the Asia Pacific region. He successively filled various posts including the assistant to the Ambassador to Japan, Mike Mansfield, the director of the office of Japanese Affairs and the U.S. Consul General in Osaka-Kobe.
Cynthia Bautista (Trustee, Ramon Magsaysay Award Foundation)

Prof. Bautista is vice president and professor of sociology at the University of the Philippines. She has led various multi-disciplinary, inter-institutional and international research teams in exploring a wide range of social and political economic concerns. She also has served as board member of various institutions that include the Ramon Magsaysay Award Foundation, the Human Development Network, and the UNESCO National Commission's Social Sciences and Humanities Committee. Currently, she is the chair of the ASEAN programme focusing on ASEAN's credit transfer system and student mobility.
Frank Jannuzi (President and CEO, Maureen & Mike Mansfield Foundation)

Mr. Jannuzi joined the Mansfield Foundation in 2014. He previously served as Deputy Executive Director (Advocacy, Policy and Research) at Amnesty International, USA. In 1997-2012, he served as Policy Director, East Asian and Pacific Affairs, for the U.S. Senate Foreign Relations Committee, and advised Committee Chairmen Joseph Biden and John Kerry on U.S. relations with East Asia. He also was a Hitachi Fellow serving as a visiting lecturer at Keio University. Mr. Jannuzi graduated from Yale University and holds an MPP from the John F. Kennedy School of Government, Harvard University.
Ronna Chao (CEO, Bai Xian Asia Institute)

As CEO of Bai Xian Asia Institute, Ms. Chao leads an organization that seeks to build bridges across cultures and develop a new generation of leaders. She is CEO of Novel Investment Partners Limited, Chairman of Novetex Textiles Limited, and a Director of Novelpark Investments Limited. Ms. Chao also serves as supervisor and board trustee at the International Christian School of Hong Kong and standing vice chairman of the Hong Kong Association of Zhejiang Entrepreneurs. She holds a BA from Brown University, and earned her MBA from Stanford University. She also spent a year as an undergraduate at Keio University.
Yasushi Watanabe (Professor, Keio University; Trustee, I-House)

Prof. Watanabe specializes in cultural anthropology, cultural diplomacy, and American studies. He received his Ph.D. from Harvard University, and has held research/teaching positions at Harvard, Oxford, Cambridge and Beijing universities and Sciences Po in Paris. His books include
The Routledge Handbook of Soft Power and Rethinking of "Culture": On the Concept of Cultural Security
. He has served as a steering committee member of the Nitobe Leadership Program since its establishment and a coordinator from 2011.
<Panel 2>
Lin Kobayashi (Chair of the Board, UWC ISAK Japan)

Ms. Kobayashi founded UWC ISAK Japan, a residential high school that opened in Karuizawa in 2014. UWC is an international education organization with a history reaching back 55 years that aims to cultivate courageous action, selfless leadership, peace and a sustainable future through education. Most students who attend UWC schools are selected to attend by national committees in 159 countries and territories worldwide. In 2017, UWC ISAK Japan became the 17th UWC. She had previously worked for UNICEF in the Philippines, where she conducted non-formal education projects for street children. She holds an MA from Stanford University. She was selected as a Young Global Leader, Yale World Fellow and Change-maker of the Year 2013 by
Nikkei Business
.
Shunsuke Nagao (Venture Partner, White Star Capital [WSC])

Mr. Nagao is Venture Partner at White Star Capital (WSC) and CEO of Eureka Japon Inc. Previously he was Executive Director of the Silicon Valley Japan Platform, and has held positions at the World Economic Forum (WEF), a Paris-based food distribution startup company, Goldman Sachs, and Morgan Stanley. At the WEF, Mr. Nagao was the head of the Asian portfolio of the "Young Global Leaders." Mr. Nagao has a BCom from Keio University and an MBA from INSEAD. Born and raised in Geneva, Switzerland, and educated in Japan and France.
Wonjae Lee (Fellow, Asia Leadership Fellow Program)

Mr. Lee launched a think tank "LAB2050" in 2018 and took its CEO position where he proposes policy alternatives to enhance social and technology innovation together. He serves as a member of the Presidential Committee on Aging Society and Population Policy in the Korean government and a director at the Yeosijae Future Consensus Institute and former president of the Hope Institute. Prior to this, he served as CEO of the Social Fiction Lab, founded Hankyoreh Economic Research Institute, and worked as a researcher at Samsung Economic Research Institute and as journalist at
Hankyoreh Newspaper
. He also designed "MBA for Social Entrepreneurs" in Korea. He earned a BA at Yonsei University and an MBA at MIT Sloan School of Management.
Hideo Ohashi (Fellow, Nitobe Leadership and US-Japan Leadership Program)

Mr. Ohashi is an Executive Director of the Real Estate Investment Department and Private Equity Investment Department for Japan Post Bank (seconded from Mitsubishi Corporation). His main role is to invest in infrastructure and overseas real estate. He was selected for various fellowships including the Nitobe Leadership Program and the US-Japan Leadership Program, where he serves as a co-chair. Mr. Ohashi holds a BEc from the University of Tokyo and an MBA from Wharton School, University of Pennsylvania.
Amy Jackson (Fellow, Mike Mansfield Fellowship Program)

As Japan Representative for the Pharmaceutical Research and Manufacturers of America (PhRMA), Ms. Jackson coordinates the activities of PhRMA's office in Tokyo and advocates for research-based pharmaceutical companies on government, economic and health care policy matters in Japan. Previously, she served as the President of the American Chamber of Commerce in Korea and held key positions at USTR and NASA. She is Vice President of the American Chamber of Commerce in Japan (ACCJ). Ms. Jackson has a BA from Pomona College and an MA in international relations from Johns Hopkins University.
Report
◆ Opening Remarks
On March 31, 2018, the International House of Japan played host to the Asia Pacific Young Leaders Program (APYLP) kick-off forum. The APYLP, a new program uniting I-House and other member organizations, serves to give young, motivated leaders the chance to meet, discuss ideas, and learn from each other in the hope of fostering innovative, Asia-led ideas and solutions for increasingly complex issues. The Asia Pacific continues to emerge as a stronger global presence, with experts predicting it will occupy a central position globally in the next 10 to 20 years. Amid that shifting dynamic, young Asia Pacific leaders will need to forge bonds across borders, work to understand each other, and blaze trails together as they strive to fulfill their crucial responsibilities in ensuring global stability and prosperity. The APYLP kick-off forum, the first gathering for the program, started with a congratulatory speech by Yoshimasa Hayashi, Minister of Education, Culture, Sports, Science and Technology, who was involved in drafting the Mansfield Fellowship Act.
◆ Commemorative Speech by Charles Rockefeller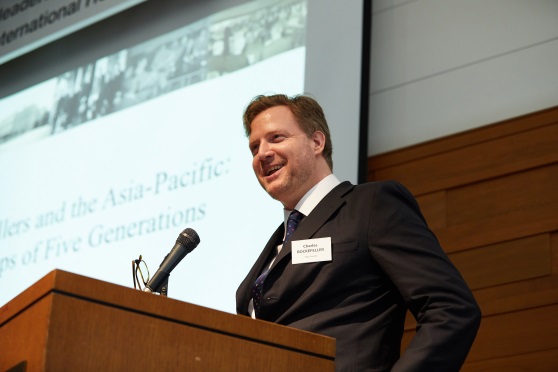 Charles Rockefeller, one of the representatives from intellectual and cultural exchange organizations in the Asia Pacific region and a grandson of John D. Rockefeller III who helped found many Asia-focused institutions in the 1950s and '60s, joined the Kick-off Forum. He made a commemorative speech "Learning from the Past," in which he explained how the Rockefeller family has been committed to this region for over a century.
The Rockefeller family has a long-standing relationship with Asia. It dates back to 1863, when 24-year-old John D. Rockefeller, Charles' great-great grandfather, first gave a $10 donation to a missionary organization in China. Since then, that engagement has progressed and grown through the generations. One example is Charles' great grandfather John D. Rockefeller, Jr., who supported the restoration of the Imperial University Library after the Great Kanto Earthquake in 1923 and the reconstruction of St. Luke's International Hospital in the 1930s, both in Tokyo, through donations. Charles also spoke about his grandfather John D. Rockefeller III's first trip to Japan in 1929, where he first met Matsumoto Shigeharu, with whom he later founded the International House of Japan. This trip would also forever shape JDR III's world view—that the Asia Pacific region had enormous potential, and that understanding and respect were essential to a more peaceful and prosperous world. JDR III believed in "the shared hopes, fears and aspirations" of Asians and Americans, and contributed to establishing more institutions in Asia, such as the Asia Society, Ramon Magsaysay Award Foundation, International Rice Research Institute, India International Centre, and Asian Cultural Council. At the end, Charles spoke about his father Jay Rockefeller, who extended the Rockefellers' special tie to Japan, especially in the economic and industrial sphere, by attracting more than 20 Japanese corporations to West Virginia as governor and then senator.
Rockefeller concluded his speech by saying that he hopes to keep leading the way toward fuller mutual understanding in the region and the world through his involvement in the Asia Pacific region.
◆ Panel Discussion I
Panel Discussion I, featuring speakers from several organizations that John D. Rockefeller III helped create, was an illuminating look at the issues currently confronting the Asia Pacific.
Daniel Russel, a senior fellow of the Asia Society, noted that climate change, terrorism, infectious disease, and security threats are just some of the many issues at hand. Another point deserving attention, he explained, is the role of NGOs in linking networks and providing a vital social infrastructure as IT and AI make ongoing advances.
Cynthia Bautista, a trustee of the Ramon Magsaysay Award Foundation, agreed and emphasized that government-led globalization has delivered both economic growth and its side effects such as inequality. In order not to leave behind such dark sides of globalization and to improve everyone's life, the involvement of agents outside of government on the ground is important, she claimed.
Chao Ronna, CEO of the Bai Xian Asia Institute, explained the need to overhaul the conventional education system in Asia, which puts an excessive focus on being the best or being No. 1. She sounded the alarm that such a system may cause misunderstandings in the definition of "leaders."

Frank Jannuzi, a representative of the Maureen & Mike Mansfield Foundation, exhorted the next-generation leaders in the room to embody Former U.S. Ambassador Mike Mansfield's deep sense of humility and commitment to bringing people together—and to embrace bold, daring risks, just as John D. Rockefeller III did decades ago. He also left strong messages such as "you can learn from misfortune" and "nothing is stopping you" which he himself gained through his personal experiences of failure in youth.
I-House trustee Watanabe Yasushi cited the anti-apartheid speech "Ripple of Hope" delivered by Robert Kennedy in South Africa in the 1960s to remind the audience how big the power of a good deed and idealism is. Such positive energy will eventually spread widely in the neighborhood like ripples, and more importantly these ripples can be brought about by anyone, he stressed.
The moderator, Doden Aiko of NHK, Japan Broadcasting Corporation, wrapped up the first panel discussion with the impression that "it does make such a big difference to be in the same room for discussion, even though there are technologies to connect people remotely."
◆ Panel Discussion II
Panel Discussion II shifted the spotlight to up-and-coming leaders, all veterans of various leadership programs, to examine how the younger generations perceive the issues and potential of the Asia Pacific region.
According to Lee Wonjae, a fellow in the Asia Leadership Fellow Program, team efforts to tackle issues that affect multiple parts of the regional community—the aging societies of East Asia, for example—will help create safety nets for avoiding frustration, opposition, and conflict at the national and even individual levels. Moreover, he launched into his theory that technology innovation is the key to the solution of problems. In the case of aging societies, technology innovation will not only enhance labor-saving which then resolves problems including waning productivity and worker shortage, but also creates new values—work for others and community, not for one's own benefit.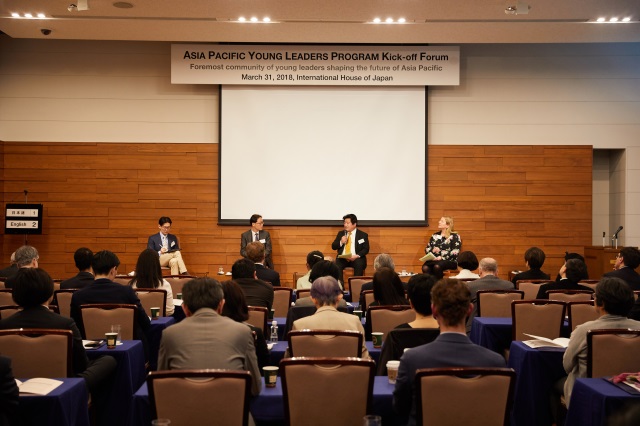 Nagao Shunsuke, CEO of White Star Capital, raised a question as moderator about how people can treat highly emotional issues such as inequality and isolationism generated by the idea of "us vs them" dispassionately. In response to the question, Nitobe Leadership Program fellow Ohashi Hideo highlighted the process of cultivating mutual understanding through education as a key means for eliminating the misconceptions and conflicts that can arise from indifference and intolerance. He also added that "answers" may not be always there for us; it demands a process of quest sometimes.
Amy Jackson, who was in the first batch of the Mike Mansfield Fellowship Program, claimed that the challenge is "creating a forward-thinking, globally oriented, and innovative global community that embraces differences and easily traverses borders." She also underscored the importance of trade which makes it much more imperative to find diplomatic solutions to the difficult problems we are facing today and much harder to fight wars against each other. Through trade promotion, bringing attention to the poor and nurturing cross-border, person-to-person interconnectedness becomes possible, she believes.
A guest speaker, Kobayashi Lin, who is Chair of the Board at United World College (UWC) ISAK Japan, focused on today's problems in the education system and emphasized the importance for students of 1) learning from diversity, 2) identifying the issues to tackle, 3) taking purposeful actions with a risk-taking attitude, and 4) learning from both successes and failures. She also addressed her attempt to introduce a mentor program for capacity building of educators. At the end of her speech, she cited a French philosopher that "Pessimism comes from your feelings; optimism from the will," which she has come to believe through her hard-fought struggles for establishment of UWC.
◆ Closing Remarks by James Kondo
The last speaker at the kick-off event was James Kondo, an I-House trustee and one of the founders of the APYLP. Kondo observed that we will be facing numerous unprecedented geopolitical, economic, and social issues over the next two decades. In that context, Kondo believes that the solutions to pressing problems will demand fresh, outside-the-box thinking that can come to life when young leaders join forces. He noted that programs for next-generation leaders are sprouting up in many places, but he also reminded the audience that honing individual skills can only go so far: the key issues facing society transcend what people can do by themselves. Collaboration is vital. Even if an approach might seem overly ambitious or even impossible, Kondo said, young leaders need to keep striving toward their goals together.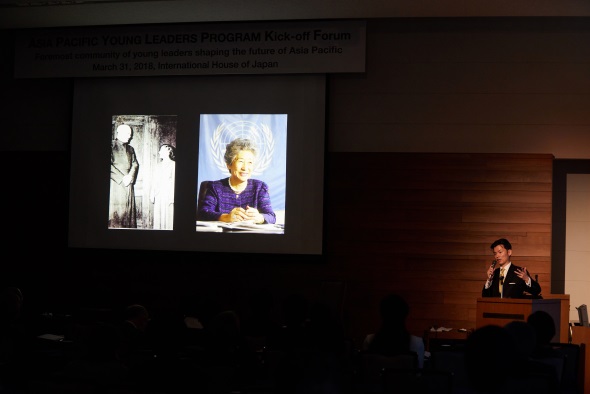 The number of alumni emerging from the programs of the participating organizations has reached more than 2,500 in total—in other words, there is now a large pool of young leaders. Kondo voiced his intentions to keep creating opportunities for young leaders to unite, enter into dialogue, and work to expand their activities across a broader scope.