The year 2019 marks the 120th anniversary of the birth of the great writer and Nobel Prize winner Kawabata Yasunari (1899-1972).
On this occasion, the International House of Japan Library, Bibliothèque de la Maison franco-japonaise, and the Deutsches Institut für Japanstudien Bibliothek will be displaying translations of Kawabata's works and critical studies.
Please enjoy various materials in English, French, and German editions.
For further information on the exposition, please contact each library.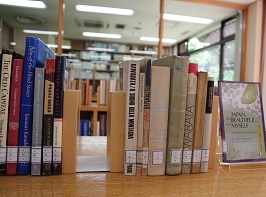 Period: Tuesday, October 1 – Thursday, October 31, 2019
Place: The Library, International House of Japan
Exhibit: English materials on Kawabata Yasunari
[Bibliothèque de la Maison franco-japonaise]
3-9-25 Ebisu, Shibuya-ku, Tokyo 150-0013
Tel: 03-5421-7643 / Fax: 03-5421-7653
E-mail: biblio@mfj.gr.jp
http://www.mfj.gr.jp/bibliotheque/presentation/index.php (website in French)
[Deutsches Institut für Japanstudien Bibliothek]
Jochi Kioizaka Bldg. 2F
7-1 Kioicho, Chiyoda-ku, Tokyo 102-0094
Tel:03-3222-5273 / Fax: 03-3222-5420
E-mail: dijbibli@dijtokyo.org
https://www.dijtokyo.org/library/
---