*This event has finished.
Reader: Gerald Vizenor (Professor Emeritus, University of California, Berkeley)
Moderator: Tomoyuki Iino (Professor, Sophia University)
Date: Thursday, July 3, 2014, 7:00 pm
Venue: The Library, International House of Japan
Language: English (without Japanese interpretation)
Admission:
Reading: Free
Reception: IHJ members & Library members: Free, non-members: 1,000 yen

(Reservations required for reading session and reception)

Co-organizers: Keio University's Faculty of Letters, Keio University's G-SEC American Studies Project, American Center Japan, The Tokyo American Literature Society
*This program will be held thanks to a contribution from an I-House member.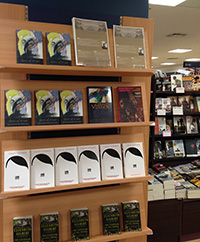 Gerald Vizenor (1934-), who is a Native American writer, has published more than 30 works—novels, poems, and criticism—as a standard-bearer of American postmodern literature. In this session, the author will read from his latest work Favor of Crows, which is a collection of original haiku poems, along with touching upon his experience in Japan and his perspective on Japan.
Vizenor's new book is on display at "Books Kinokuniya Tokyo," the foreign book floor of the Kinokuniya Bookstore (Shinjuku South Store).
---
Lecture 1
Keio University's G-SEC American Studies Project
ISHMAEL OF THE PEQUOD:
Natural Motion and Scenes of Survivance in Moby-Dick
Moderator:  Takayuki Tatsumi (Professor, Keio University)
Date:  Tuesday, July 1, 2014, 2:00-4:15 pm
Venue:  Room 515, West School Building, Keio University
       (2-15-45 Mita, Minato-ku, Tokyo, 108-8345)
Admission Free, No Reservation Needed
Inquiries: infovizenorjapan@gmail.com
Lecture 3
American Center Japan
Trace of Liberty in Haiku and Imagistic Poetry
Moderator:  Yoshiko Uzawa (Professor, Keio University)
Date: Wednesday, July 16, 2014, 6:30-7:45 pm
Venue:  American Center Japan Hall
       (1-1-14-8F, Akasaka, Minato-ku, Tokyo 107-0052)
Reservations: http://goo.gl/INBG6u
Gerald Vizenor

Gerald Vizenor was born to a father who was Anishinaabe and a mother who was Swedish American. After serving as director of the American Indian Employment and Guidance Center in Minneapolis, Minnesota, and working at the
Minneapolis Tribune
, Vizenor is now Professor Emeritus at the University of California, Berkeley, and Professor of American Studies at the University of New Mexico. His works include:
Hiroshima Bugi: Atomu 57
(University of Nebraska Press, 2003),
Almost Ashore
(Salt Publishing, 2006),
Shrouds of White Earth
(State University of New York Press, 2010), and
The White Earth Nation : Ratification of a Native Democratic Constitution
(University of Nebraska Press, 2012). He received the 2011 American Book Award for his book
Shrouds of White Earth
.
---