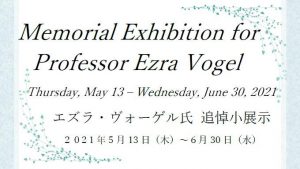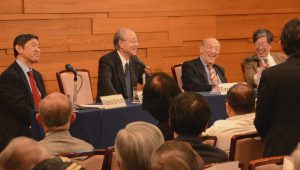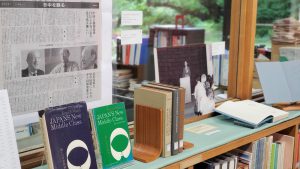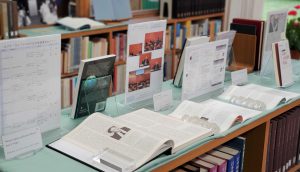 Professor Ezra Vogel, a leading figure in postwar East Asian studies, passed away last December.
He was a longtime supporter of the International House of Japan as a member, and in 2009 he delivered a lecture at the I-House Academy on the topic of "Deputy Prime Minister Deng Xiaoping's Historical Visit to Japan (1978) and the Future of Sino-Japanese Relations."
The library is holding a small exhibition of Professor Vogel's works in memory of his life and distinguished career.
In the I-House Academy lecture, he referred to the importance and expectations of the role of the International House of Japan in the international community. And on the occasion of I-House's sixtieth anniversary in 2012, he offered the following comments:
"Japan now also lags behind China in developing human resources to formulate long-term strategies, unswayed by day-to-day political concerns. Under the circumstances, it's unavoidable that the Japanese media gives undue attention to swings in the public mood and sentiment, rather than exploring longer-term issues.
Both Japan and the United States need to deepen their understanding of emerging powers in anticipation of the new global reality that they will need to negotiate with the emerging powers. Government think tanks can play an important role in strategic discussions. But in Japan, I can't think of a better organization to bring about a broader understanding between Japan and emerging powers than the International House of Japan. Those who are fully committed to US-Japan relations should join the effort to promote greater dialogue between Japan, the United States, and other countries."*
He was active until just before his death, including in helping improve Japan-China relations. We are blessed to have had such a dear mutual friend, and we will long remember his kindness, compassion, and thoughtful insights.
The library would like to express its sincere gratitude to Mr. Richard E. Dyck for donating many books by Professor Vogel and for his valued support as an I-House member.
* Translated from a passage quoted in the following book (p. 85)
Nihon no tachiichi o kangaeru: Renzoku sinpojiumu / edited by Yasushi Akashi
Iwanami Shoten, 2013
[I-House publication]
Publisher description:
https://www.iwanami.co.jp/book/b261947.html/
Period: Thursday, March 13 – Wednesday, June 30, 2021
Place: The Library, International House of Japan
Exhibit: The books by Prof. Vogel and materials regarding him.