Lecturer: Ryosei Kokubun, Professor, Keio University
Date & Time: Thursday, April 17, 2008, 12:15-1:15 pm
Admission: 3,000 yen (IHJ Members: 2,000 yen) with a lunch ticket*
2,000 yen (IHJ Members: 1,000 yen) lecture only
Language: Japanese (with no English translation)
We have asked Prof. Ryosei Kokubun, a specialist on Chinese politics and foreign policy, to talk about contemporary China (hosting the Olympic Games this year) and the future of Japan-China relations. He will touch upon the influence of personnel changes in the recent party congress and recent developments in China's foreign policy, particularly in regard to Japan, and also compare differences in the development in both countries.
Ryosei Kokubun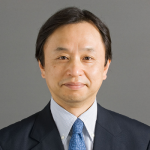 Born in 1953. He is currently the Dean of the Faculty of Law and Politics, Keio University and a member of the New 21st Century Commission for Japan-China Friendship. He is president of the Japan Association of International Relations and former president of the Japan Association for Asian Studies. His works include The Rise of China and the Changing East Asian Order (coeditor) and Politics and Bureaucracy in Contemporary China, Keio University Press, 2004 (Suntory Prize for Social Sciences and Humanities, 2004). He is also Councilor of the International House of Japan.