Lecturer: Takayuki Tatsumi, Professor, Keio University
Date & Time: Friday, July 4, 2008, 12:15-1:15 pm
Venue: International House of Japan
Admission: 3,000 yen (Discount Rate*: 2,000 yen) with a lunch ticket*
2,000 yen (Discount Rate*: 1,000 yen) lecture only
Language: Japanese (with no English translation)
This year's Independence Day will give us a wonderful chance to reconsider the Founding Fathers, such as Benjamin Franklin and Thomas Jefferson, as the heros of the American Myth. The "magic words" of the Declaration of Independence have consistently enchanted the whole world, and now we are about to witness the birth of a new American President responsible for the global history of the 21st century. Prof. Tatsumi, who has reexamined American literary and cultural history from the perspective of contemporary critical theory, plans to discuss the "salad bowl" of Pacific rim culture brought about by U.S.-Japan relations since Herman Melville and Yukichi Fukuzawa.
Takayuki Tatsumi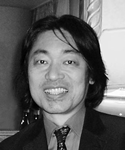 Born 1955. Specializes in American literature and critical theory. Graduated from Cornell University (Ph.D. 1987). His major works include Cyberpunk America (Tokyo: Keiso Shobo Publishers, 1988; the winner of the 1988 American Studies Book Prize [Japan-US Friendship Commission]); New Americanist Poetics (Tokyo: Seidosha Publishers, 1995: the 1995 Yukichi Fukuzawa Award [Keio University]); and Full Metal Apache: Transactions between Cyberpunk Japan and Avant-Pop America (Durham: Duke UP, 2006). He is currently the director of the English Literary Society of Japan, president of the Tokyo chapter of the American Literature Society and editor of The Journal of Transnational American Studies.