Lecturer: Kudo Toshihiro (Director, Southeast Asian Studies Group II, Area Studies Center, Institute of Developing Economies, JETRO)
Date: Thursday, April 12, 2012, 12:15-1:30pm,
Venue: Kabayama-Matsumoto Room, International House of Japan
Admission: 1,000 yen
(Students: 500 yen, IHJ Members and JETRO Members: Free)
Reservation is required. (Lunch is not included.)
Language: Japanese (without English interpretation)
After the transition to a new civilian government in March 2011, Myanmar has made drastic changes showing compromises to Western countries and to the opposing party. In this program, we will invite Mr. Kud?, an expert on Myanmar issues, to talk about the current situation of Myanmar, its changing economy, and the impact on Japan and Asia.
Kudo Toshihiro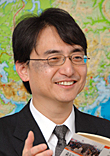 Director, Southeast Asian Studies Group II, Area Studies Center, Institute of Developing Economies, JETRO