This event now concluded. Report available here.
Lecturer: Ishiguro Hiroshi (Robot Researcher / Distinguished Professor, Osaka University)
Date: Friday, November 13, 2015, 0:15-1:30 pm
Venue: Iwasaki Koyata Memorial Hall, International House of Japan
Language: Japanese(without interpretation)
Admission: 1,000 yen (Students: 500 yen, IHJ members: Free)

*Lunch is NOT included.

Seating: 200

(reservations required)
Personal robots such as Soft Bank's "Pepper" released in 2014 enable us to imagine the reality of a "Robot Society" where robots and humans live together in the near future. What can we learn from robots? Dr. Ishiguro Hiroshi, a pioneer in human-like robotics has researched the interaction between robots and humans through pioneering field trials of robots he developed: androids that can be actors on stage, the teleoperated android "geminoid" with himself as a model, and "telenoid" for promoting communications. In this lecture, Dr. Ishiguro will touch upon his analyses on Japan's robot culture that can/can't be adopted by foreign countries and contact points of technology and art drawn from his extensive research.
Ishiguro Hiroshi
(Robot Researcher / Distinguished Professor, Osaka University)

Dr. Ishiguro was born in Shiga in 1963. He also is the Visiting Director (ATR Fellow) of the Hiroshi Ishiguro Laboratory at the Advanced Telecommunications Research Institute (ATR). His research interest is realizing life-like robots with intellectual systems, and he has developed various robots such as Humanoid, Android, and "Geminoid" as a copy of himself. In 2007, the British consulting company Synectics selected him as the 26th among the top 100 living geniuses (the highest rank for a Japanese). He has won numerous prizes including the Osaka Culture Prize (2011) and Commendation for Science and Technology by the Minister of MEXT (2015). His books include "Robot towa nanika" [What is a Robot?] (Kodansha, 2009) and "Dou sureba 'Hito' wo tsukureruka" [How Can We Create Humans?] (Shinchosha, 2014) among many others.
Report
Dr. Ishiguro Hiroshi has gained global attention for his trailblazing research on androids. Surprisingly, though, he says that he has never been obsessed with robots per se. What initially motivated him was the experience he had as a child of hearing his parents or teachers tell him, "You should consider the feelings of others." That led him to ponder the question: What are people's feelings, exactly? And what does it mean to think? The interest he had in finding out more about human nature fed his research into cutting-edge robots.
During his lecture at I-House, he sought to answer the question of how to define truly human life in an age where human beings are evolving rapidly through technology, which leads to the pivotal question of why organic creatures emerged on this planet.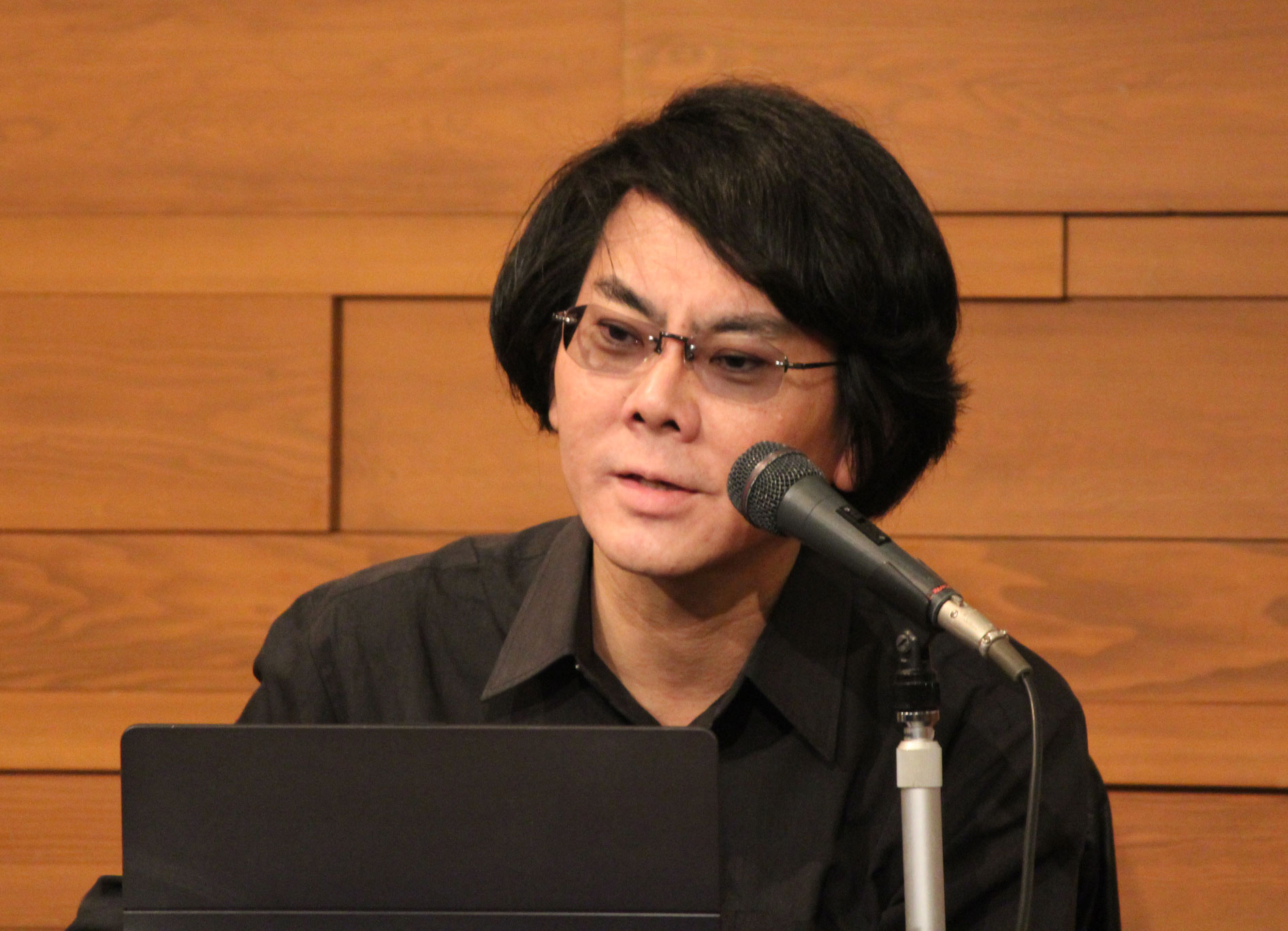 The Dawn of the Robot Age
The emergence of humanoids like Pepper, a companion robot developed by SoftBank, and Dr. Ishiguro's Matsukoroid, an android that looks like the Japanese celebrity Matsuko Deluxe, has helped spark a new boom. Has the moment arrived when such robots will be able to play an active role in human society? In addressing this question, Dr. Ishiguro said, "I'm convinced that a robot society is not far off in the future. Even if some technologies can seem a bit creepy at times, people will accept them with surprising alacrity as long as they enhance convenience—and this should be true of humanoid robots." He pointed out that many technologies initially resisted by people—such as "talking appliances," smartphones, or even credit cards—have now become an ordinary part of daily life.
What has sparked the recent boom in robots, Dr. Ishiguro explained, is the spread of the Internet and smartphones, as well as rapid advances in communications and in voice- and image-recognition technologies. He believes that if the price of reliably interactive robots falls to a level somewhere between 100,000 and 200,000 yen, their use will expand to include a range of situations, starting with video games and educational activities, and then extending to use in train stations, department stores, hospitals, and elderly-care facilities. In particular, he points to the potential usefulness of such robots in retailing and for conversational foreign language instruction.
What Does it Mean to be "Human-like"?
At the same time as robots are becoming more human-like, human beings are becoming more "robotic." The development of human capabilities has been accelerating, not through their own genetic evolution but rather through the use of technology. In his talk, Dr. Ishiguro raised the example of how human beings already have broadened their capacities remarkably as a result of the automobile, airplanes, and cellphones. The advances made through such technologies are far swifter than whatever evolution has taken place genetically.
But to what extent can technical advances restructure the essence of human beings? Hardly anyone would view someone with an artificial limb as somehow being inhuman. If the flesh and blood of a person is not what makes us human, then would it be possible to replace all of our physical parts with machinery? Dr. Ishiguro responds in the affirmative, presenting his view that, considering the pace of technological innovation to date, it would be hard to deny that in a thousand or maybe ten thousand years even our brains might be replaced by computers. "Already in our daily lives," he explained "around 90% of our functions depend to some extent on machinery or artificial objects, rather than our own physical capacities. How many of you, for instance, would be able to live without a car or computer, or your smartphone and glasses?"
Are Human Beings Destined to Become "Inorganic"?
The expansion of our capabilities through technology has led to a contraction of what might be called our animal attributes. In addressing the issue of human evolution, Dr. Ishiguro stated, "It could be said, somewhat exaggeratedly, that human beings emerged for the sake of one day becoming androids." He even offered the hypothesis that if technologies such as "brain uploading" were developed in the future, it would allow brain activity to be transferred to a computer, so that human beings might very well transcend their biological limits to exist beyond the realm of the physical world, becoming something inorganic. This bold view that the destiny of human beings might be to one day become inorganic and immortal drew various responses from the audience at I-House.
This sort of argument leads to the fundamental question of why organic life emerged on Earth in the first place. Dr. Ishiguro's view is that organic substances may have been simply a means for the planet to rapidly evolve, adding that we might be able to unravel that question in the course of future robotic research.