At the entrance of our library, introducing the catalogue of the "Matsukata Collection" built up by businessman Kojiro Matsukata in the early Taisho era, and library books related to the Matsukata family.
"The Matsukata Collection: Complete Catalogue of the European Art" published in 2018 is an extensively revised and expanded edition based on recent research, a quarter of a century after the first edition was published in 1990.
Just before its publication, major news occurred in the art world: Monet's masterpiece "Water Lilies, Reflections of Weeping Willows," a work owned by Matsukata which had long been missing, had been discovered in France in a damaged state and handed over to the National Museum of Western Art for restoration.
The founder of the I-House, the late Shigeharu Matsumoto, struggled during earlier negotiations between France and Japan for the return of works.
This display introduces books describing Matsukata's life and the turbulent fate of the collection as well as writings about the Matsukata family, including Kojiro Matsukata and Shigeharu Matsumoto.
Our library is one of the few libraries where you can see both the first and second editions of the catalogue.
The library would like to express its sincere gratitude to Mr. Shichiro Matsukata for donating the following journal "Matsukata Korekushon no Subete," and for his valued support to the International House of Japan as a long-time member.

Matsukata Korekushon no subete : sūki na unmei o tadotta jitsugyōka Matsukata Kōjirō
Sanei, 2019.6
[日本語棚||700]
Publisher description:
https://www.sun-a.com/magazine/detail.php?pid=10852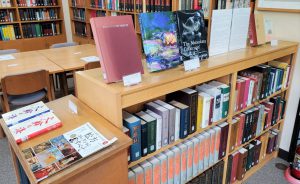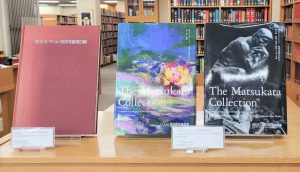 Period: Friday, October 30 – Monday, December 28, 2020
Place: The Library, International House of Japan