We would like to introduce the book Meikenchiku de chushoku o: Ofisharu bukku.
This is the official guidebook of the TV drama series Meikenchiku de chushoku o (Lunching at Architectural Landmarks), broadcast on TV Osaka and BS TV Tokyo, which featured the International House of Japan in one of its 10 episodes. The TV series was based on Aruite, taberu Tokyo no oishii meikenchiku sanpo (Tokyo Historical Architectures and Cafeterias), a collection of essays by Minori Kai published in 2018 by X-Knowledge.
The guidebook features photos from the TV series and the 10 renowned buildings in Tokyo it introduced, including their history and the architects' ideas behind them.
The book allows readers to follow the story while enjoying the beautiful exterior and interior of the buildings that served as the setting for the drama and to gain deep insights into the architects' thinking and preferences through vivid photographs and lucid commentary.
I-House appeared in episode 6, and the book showcases not only the beautiful Japanese-style garden and the buildings designed by modernist giants Kunio Maekawa, Junzo Sakakura, and Junzo Yoshimura but also the often-overlooked stone wall leading into the I-House grounds from the Torii-zaka slope, the writing desks in the lobby, the chairs of The Garden tea lounge, the white stairs of the (members-only) accommodations wing, and the private rooftop with photos and detailed explanations.
The guidebook is a great way to learn about the history and details of each building, regardless of whether you viewed the TV series. Readers can also enjoy photos of the appetizing dishes served and souvenirs introduced on the show.
Meikenchiku de chushoku o: Ofisharu bukku / Meikenchiku de chushoku o seisakuiinkai
CCC Media House Co., Ltd., 2020.12
[日本語棚||700]
Publisher description:
http://books.cccmh.co.jp/list/detail/2483/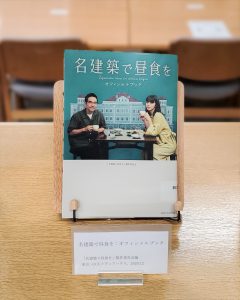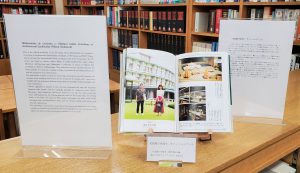 Period: Thursday, April 1 – Monday, May 31, 2021
Place: The Library, International House of Japan