On May 18, 2022, the International House of Japan (I-House) and the India International Centre (IIC) entered into a strategic partnership to promote joint programs to further strengthen Japan-India relations. I-House is celebrating its 70th anniversary this year and is looking back on its history and promoting initiatives to shape the future. As part of this effort, it has decided to strengthen its ties with the IIC.
By promoting comprehensive collaboration in international exchange projects, particularly between Japan and India, I-House aims to contribute to solving issues in the Indo-Pacific region and improving the quality of international contributions.
The May 18 signing ceremony was attended by Ambassador Sanjay Kumar Varma, India's Ambassador Extraordinary and Plenipotentiary to Japan, Shri N.N. Vohra, President IIC, and Shri Shyam Saran, Life Trustee IIC.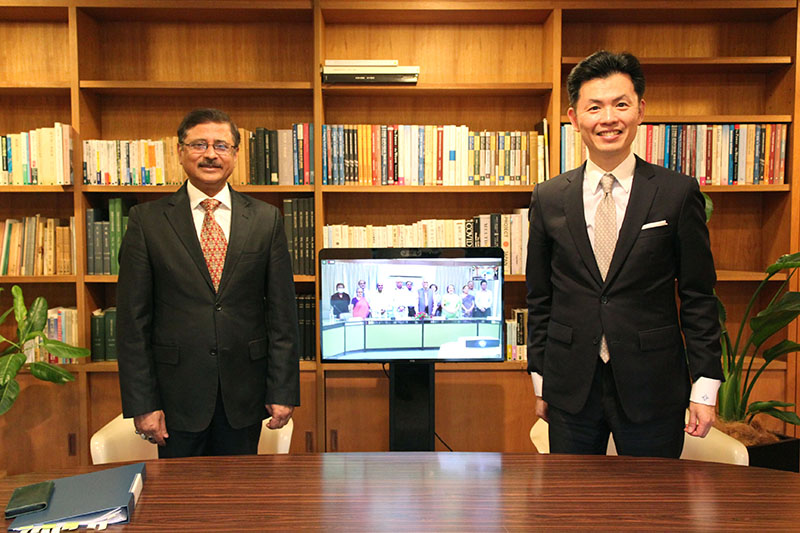 (From left): Ambassador Sanjay Kumar Varma, India's Ambassador Extraordinary and Plenipotentiary to Japan, International House of Japan Chairman James M. KONDO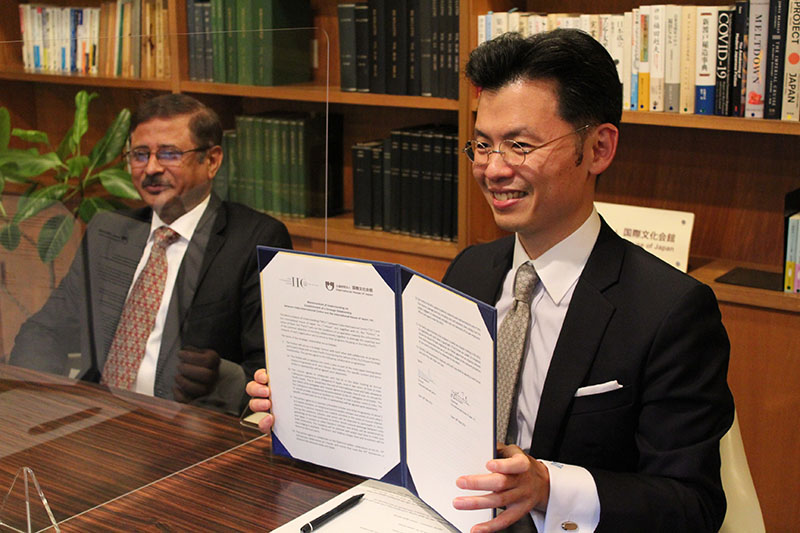 India has been an important part of I-House since its establishment. I-House hosted Prime Minister Jawaharlal Nehru as a guest of honor in a special lecture program entitled "The Heart of India" and has since invited many intellectuals from the country. In celebrating its 70th anniversary, I-House has set forth a new vision, "to become a leading hub for knowledge exchange not only in Japan but in the broader Asia-Pacific region, as well as globally," and the promotion of exchange with India is one of its top priorities.
I-House and the IIC have a common mission and share the fact that John D. Rockefeller III was instrumental in the founding of both institutions. Over the years, they have co-sponsored the "Japan-India Seminar," to which Indian intellectuals have been invited to promote bilateral exchange. In this memorable year marking the 70th anniversary of I-House, the diamond jubilee of the IIC, and the 70th anniversary of the establishment of diplomatic relations between Japan and India, I-House and the IIC will re-strengthen their relationship and further promote mutual understanding and goodwill between Japan and India, leveraging the expertise, human networks, and the platforms of both institutions to further strengthen the relationship and promote mutual understanding and friendship between the two countries.
With the conclusion of this partnership, I-House and the IIC will work to further expand the scope of international cultural exchange and look forward to continued warm support and guidance of all stakeholders.
Comments from the signatories of the I-House and IIC can be found below.
Shri K.N. Shrivastava, Director, India International Centre
"The signing of this MOU between the IIC and I-House is a landmark event in further strengthening relations between us. Our association with I-House has been a privilege for the IIC, and we look forward to a long and fruitful journey together."
■India International Centre (IIC)

The IIC, a pioneering cultural exchange organization in India, was established in 1962 at the suggestion of Prime Minister Jawaharlal Nehru, who visited I-House in 1957 and was inspired by I-House's cultural exchange programs and facilities. The IIC has long served as a forum for political leaders, diplomats, policymakers, intellectuals, scientists, jurists, writers, artists, and members of civil society to come together and exchange new ideas for the purpose of international cooperation. Its mission of "promoting understanding and friendship between the world's different communities" is reflected in many of its activities and projects. In 1960, then Crown Prince Akihito laid the foundation stone for the IIC; and, 53 years later in 2013, as Emperor, he re-visited the centre with Empress Michiko, which demonstrates the IIC's historical ties with Japan.
https://iicdelhi.in/