On July 13, 2022, the International House of Japan (I-House) and the Okinawa Institute of Science and Technology Graduate University (OIST) entered into a strategic partnership.
I-House, which is celebrating its 70th anniversary this year, invites world-class intellectuals to advance initiatives that can lead to the resolution of global issues. As part of this effort, I-House has decided to form a strategic partnership with OIST, a world-class research institute created by the Japanese government.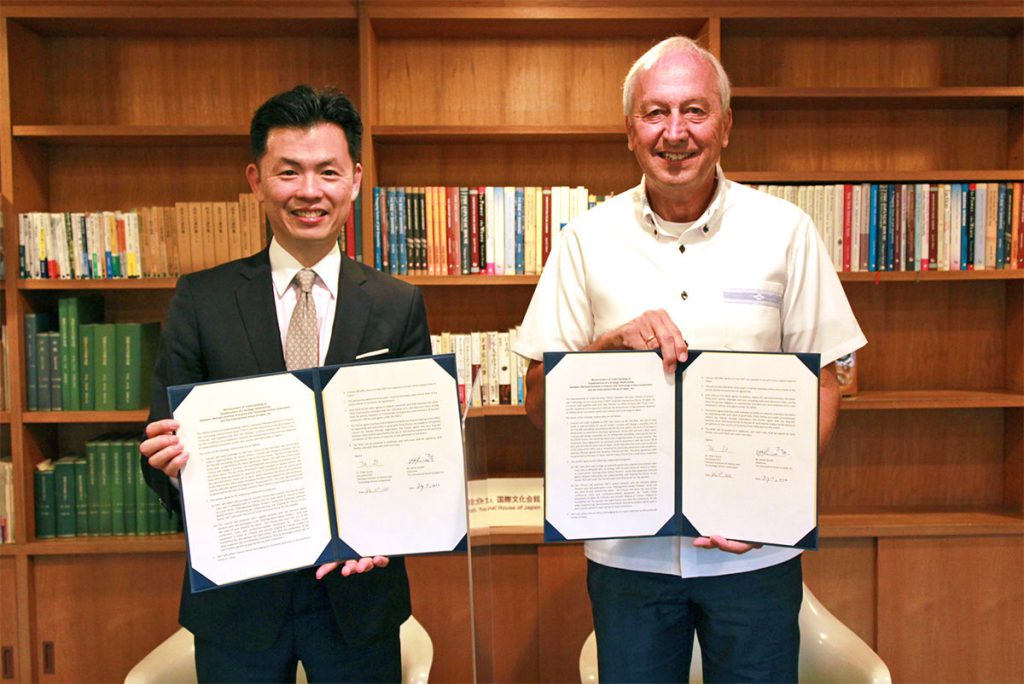 (From left):James Kondo, Chairman, International House of Japan, Dr. Peter Gruss, CEO & President, Okinawa Institute of Science and Technology

World-class scientists and intellectuals will be invited to I-House in collaboration with OIST to discuss solutions to global issues with leaders in various fields.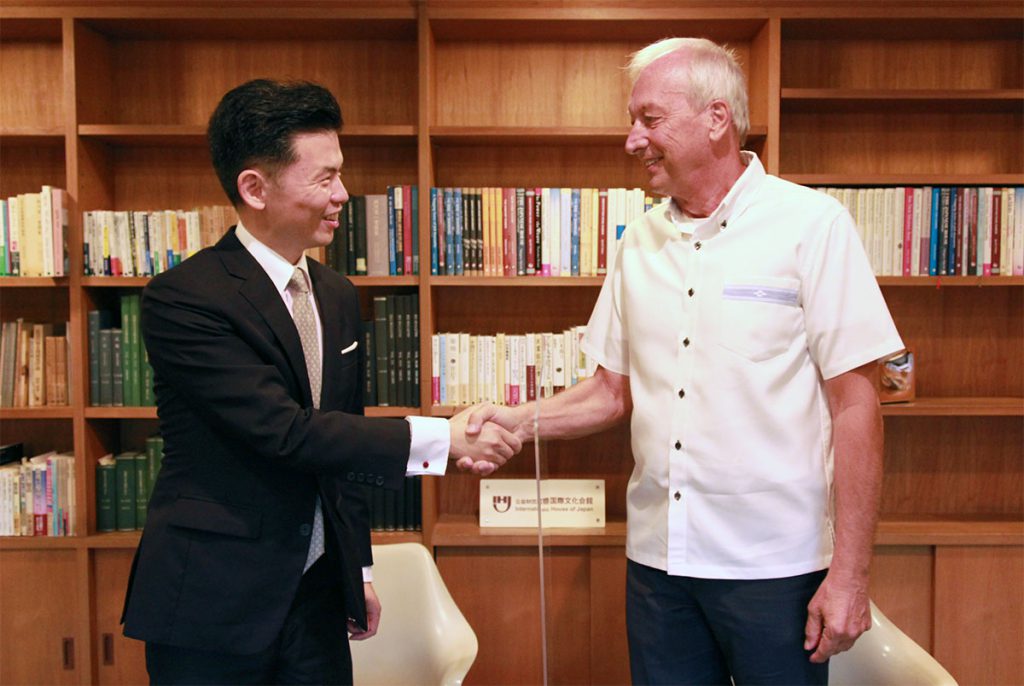 Since its establishment, renowned scientists have been invited to I-House to engage in intellectual dialogue. Examples include: Dr. J. Robert Oppenheimer, Director of the Institute for Advanced Study at Princeton and a world authority on quantum mechanics in 1960; and Dr. Harrison Brown, President of the International Council of Scientific Unions and Professor of Geochemistry, Science and Government at the California Institute of Technology in 1975. I-House and OIST will expand such visits by world-leading scientists through this partnership.
Comments from the signatories are as follows:
Dr. Peter Gruss, CEO & President, Okinawa Institute of Science and Technology
After just 10 years, OIST is making bold steps towards becoming a global leader in cross-disciplinary research and technology transfer, while acting as a catalyst to foster a healthy innovation ecosystem in Okinawa and Japan. IHJ is now celebrating 70 years since its inception and is currently focused on having a greater global impact as a center of intellectual exchange in the Asia-Pacific region. We share other commonalities—both OIST and IHJ are international, and both take part in cultural and scientific exchanges. Naturally, we are excited to form a strategic partnership with IHJ. We look forward to building on our common interests and mutual strengths to advance science and technology and to craft a startup culture in Japan.
Brief introduction of OIST(OIST)
OIST was founded in 2011, by the Japanese government to contribute to science and technology worldwide, attract leading researchers from Japan and abroad to conduct high-quality research, advance the development of a world-class research hub, and nucleate a knowledge cluster that will catalyze technology transfer and industrial innovation in Okinawa. As a pioneering graduate university, its mission is to conduct research that bridges disciplines to explore new frontiers of scientific knowledge, educate a new generation of scientific leaders and be a catalyst for an innovation hub in Okinawa.
https://www.oist.jp