On November 2, 2022, the International House of Japan (I-House) and Japan Society entered into a strategic partnership. I-House, celebrating its 70th anniversary this year, is looking back on its history and promoting initiatives to shape the future. As part of this effort, we have decided to strengthen our comprehensive partnership with Japan Society, which celebrates its 115th anniversary this year and is the largest Japan-US exchange organization in the United States. This strategic partnership is in line with I-House's vision of becoming a leading hub for knowledge exchange in the Asia-Pacific region.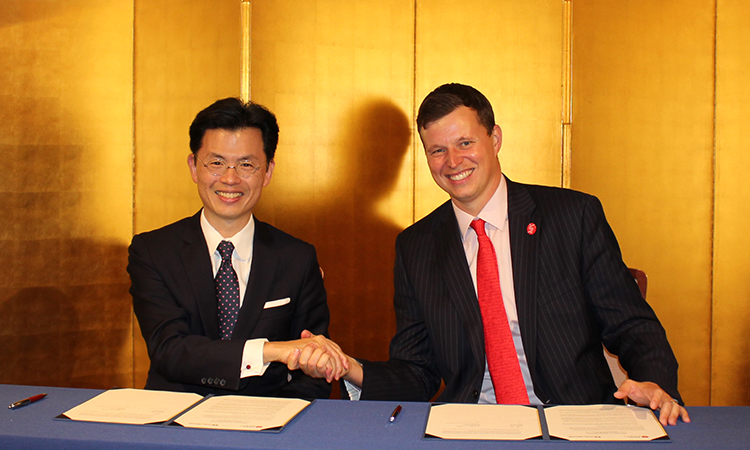 (From left):James Kondo, Chairman, International House of Japan, Dr. Josha Walker, President&CEO, Japan Society

John D. Rockefeller III, who was involved in the founding of I-House, served as Japan Society President for many years. In addition, both the I-House and Japan Society buildings were designed by Junzo Yoshimura, one of the masters of Japanese modernist architecture. The main I-House building is designated a Registered Tangible Cultural Property, and the Japan Society building is designated a New York City Historic Preservation Building. In collaboration with Japan Society, we will explore expanded possibilities for dialogue, exchange, and creativity that draw on our architectural and historical assets and communicate the value of a closer partnership to society.
Comments from the signatories are as follows:
Josha Walker, President&CEO, Japan Society
I couldn't be more excited about this timely chance for a deeper partnership with the International House of Japan.
We are sister organizations that share similar missions as global connectors along with the Rockefeller family's legacy, including the enduring architecture of our headquarters building, Junzo Yoshimura's landmarked Japan House. From the heart of the capitals of culture, finance and global diplomacy in New York and Tokyo, we hope to showcase the best of U.S.-Japan from the global stage, working together in a way that makes the sum total of our parts that much greater!
■ Japan Society (JS)
Japan Society is the premier organization connecting Japanese arts, culture, business, and society with audiences in New York and around the world.
At Japan Society, we are inspired by the Japanese concept of kizuna (絆)–forging deep connections to bind people together. We are committed to telling the story of Japan while strengthening connections within New York City and building new bridges beyond. In over 100 years of work, we've inspired generations by establishing ourselves as pioneers in supporting international exchanges in arts and culture, business and policy, as well as education between Japan and the U.S.
Now, more than ever, we strive to convene important conversations on topics that bind our two countries together, champion the next generation of innovative creators, promote mutual understanding, and serve as a trusted guide for people everywhere who seek to more fully appreciate the rich complexities and abundance of Japan.
From our New York headquarters, a landmark building designed by architect Junzo Yoshimura that opened to the public in 1971, we look forward to the years ahead, which will be defined by our digital and ideational impact through the kizuna that we build. Our future can only be enhanced by learning from our peers and engaging with our audiences, both near and afar.
https://www.japansociety.org/