The International House of Japan is pleased to announce that it has recently signed a Collaboration Agreement on the Establishment of a Strategic Relationship with the Asia Society.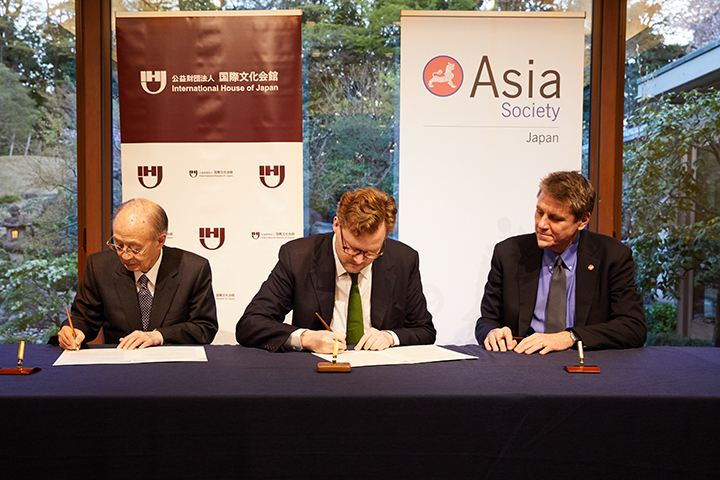 (L to R) International House of Japan Chairman Akashi Yasushi, Asia Society Trustee Charles Rockefeller, and Asia Society Executive Vice President Tom Nagorski sign a memorandum of understanding between the International House of Japan and the Asia Society on March 30, 2018, at the International House of Japan.
The Asia Society is a leading educational organization dedicated to promoting mutual understanding and strengthening partnerships among peoples, leaders, and institutions of Asia and the United States in a global context. Across the fields of the arts, business, culture, education, and policy, the Society provides insight, generates ideas, and promotes collaboration to address present challenges and create a shared future.
Founded in 1956 by John D. Rockefeller III, the Asia Society is a nonpartisan, nonprofit institution with major centers and public buildings in New York, Hong Kong, and Houston, and offices in Los Angeles, Manila, Mumbai, San Francisco, Seoul, Shanghai, Sydney, Washington, D.C., and Zurich.
I-House and Asia Society have common roots, as I-House was also founded with support from JDR III and the Rockefeller Foundation in 1952.
Over the years, I-House has collaborated with the Asia Society, for instance co-hosting the Williamsburg Conferences, but with the establishment of the Strategic Partnership, both organizations will collaborate more closely on various Asia-Pacific focused programs and activities, including the Asia Pacific Young Leaders Program (APYLP).
In addition, based on the Collaboration Agreement, the Asia Society has opened a Japan Center within the I-House facilities, to organize various programs of its own and in collaboration with other organizations and individuals in Japan.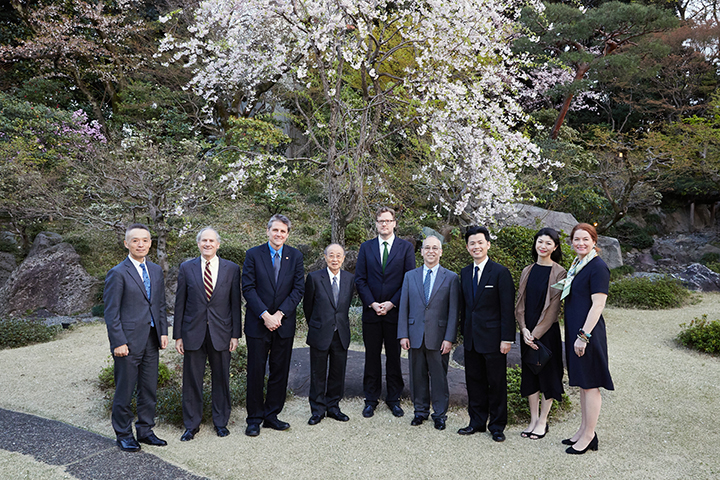 The Asia Society and International House of Japan team after the signing ceremony on March 30, 2018.
Asia Society
725 Park Avenue (at East 70th Street), New York, NY 10021
Tel: 212-288-6400 / Fax: 212-517-8315
e-mail: info@asiasociety.org / URL: asiasociety.org
Asia Society Japan Center
International House of Japan, 1st Floor
5-11-16 Roppongi, Minato-ku, Tokyo 106-0032
e-mail: japancenter@asiasociety.org