The International House of Japan is pleased to announce that it has just signed a Memorandum of Understanding on the Establishment of a Strategic Relationship with the Japan-India Association.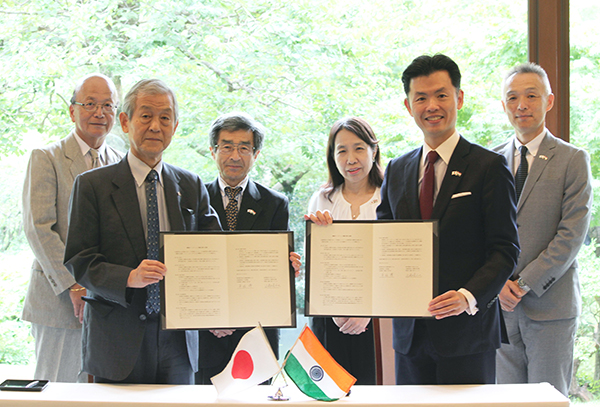 (From left)Japan-India Association Secretary General Tatsuo NISHIMOTO, Japan-India Association President Hiroshi HIRABAYASHI, Japan-India Association Senior Director Katsuyoshi SASADA, Board member of both organizations Chiharu TAKENAKA, International House of Japan Chairman James M. KONDO, and International House of Japan Deputy Managing Director Isamu MARUYAMA

The Japan-India Association was inaugurated by Shigenobu Okuma, Eiichi Shibusawa, and other eminent personalities in 1903 for the purpose of deepening friendship and promoting mutual relations between Japan and India. Since then, the Japan-India Association, a historic non-profit organization, has engaged in a wide range of activities such as supporting cultural programs and advising on Japan's diplomatic relationship with India.
India has been a prominent country for I-House as well ever since its foundation. In 1957, Indian Prime Minister Jawaharlal Nehru visited Japan as a State Guest and made a presentation and held a discussion with Japanese intellectuals at I-House. With the new vision for our programs "Contribute actively to future peace and co-existence in the Indo-Pacific by strengthening the network in the region as a pioneer in international exchange in Asia," strengthening Japan's ties to India is a top priority for I-House.
Based on the Memorandum of Understanding, I-House and the Japan-India Association have reciprocally become a cooperating member toward the achievement of the common objective of working collaboratively together to leverage the expertise and network of each organization and to enhance various programs focusing on the Indo-Pacific.
The Japan-India Association Official Website: https://www.japan-india.com/english