This event now concluded. Report available here.
Lecturer: C. Andrew Gerstle, Professor, School of Oriental and African Studies (SOAS), University of London/ Visiting Research Scholar, Nichibunken
Commentator: Yano Akiko, Research Associate at the Japan Research Centre at SOAS, University of London
Date: Thursday, February 12, 2015, 6:30-8:00 pm
Venue: Lecture Hall, International House of Japan
     

(Venue has been changed from Iwasaki Koyata Memorial Hall)

Language:

English (without interpretation)

Co-organized by International Research Center for Japanese Studies (Nichibunken)
Admission: Free
Seating: 120

(reservations required)
Ukiyo-e, which includes erotic shunga prints ("spring pictures"), developed from the 17th century and is well known in the world as a dynamic art of the common people. Although it had a tremendous impact on Western art from the late 19th century, its standing in the art history world in Japan remained relatively low until recent times. When postwar Japanese scholars worked hard to raise the status of ukiyo-e, shunga was essentially banished from the academy and forgotten about until a revival of interest in recent years. As a consequence, shunga has been a difficult subject to research because of the taboo cast over it in Japan during the 20th century. Although thousands of shunga paintings, prints and illustrated books were produced during the Tokugawa era, this corpus is still relatively unknown today in Japan or abroad, because until recently public museums and libraries did not collect this material, or deflected access. This talk will discuss shunga in relation to the larger world of ukiyo-e and present a case that shunga is undoubtedly an important part of the Japanese cultural heritage, and that research into its nature and role in society is essential if we are to have a more accurate understanding both of ukiyo-e as a genre and of early modern Japanese culture and society. The focus of the talk will be the four-year International Shunga Project (by SOAS University of London, the British Museum, Ritsumeikan University and Nichibunken) that culminated in the exhibition at the British Museum in 2013.
*Please note that some of the materials shown may be explicit.
C. Andrew Gerstle

C. Andrew Gerstle is Professor of Japanese Studies at the School of Oriental and African Studies (SOAS), University of London. His research has been on Edo-period popular theater, literature and art. He has been guest curator for two exhibitions and catalogues at the British Museum: in 2005 for Kabuki Heroes on the Osaka Stage 1780-1830, and in 2013 for Shunga: Sex and Pleasure in Japanese Art. His major publications include Edo onna no shungabon (Shunga books for Edo-period women, 2011); Ryûkôsai Zuroku—Kamikata Yakusha Nigaoe no Reimei (Ryûkôsai Catalogue: The Dawn of Osaka Actor Likeness Prints, co-author 2009); Chikamatsu: Five Late Plays (2001).
Akiko Yano
Akiko Yano received her PhD from Keio University and currently is Research Associate at the Japan Research Centre at SOAS, University of London. She specializes in Japanese art history (late medieval to early modern painting). Her recent publications include: 'Shunga Paintings before the "Floating World"', in Timothy Clark et al. (eds.), Shunga: Sex and Pleasure in Japanese Art, British Museum Press, London, 2013, pp. 62-73.
Report
The artistic and academic value of shunga, erotic prints from the Edo period (1600–1868), has been recognized outside of Japan in recent times. One good example of such interest was the 2013 special exhibition held at the British Museum titled Shunga: Sex and Pleasure in Japanese Art.
During the lecture Professor C. Andrew Gerstle, who has long studied shunga and other popular arts in Edo culture and who served as guest curator for the British Museum exhibition, presented a range of art works from masterpieces by Hokusai or a famous Kano-school artist like Chobunsai Eishi to parody versions of education books. Professor Gerstle explained not only the beauty and humor expressed in shunga but their politically satirical aspects in relation to Tokugawa authoritarian society and Confucianism. He also explicated Edo attitudes toward sexuality and how shunga have been received over time.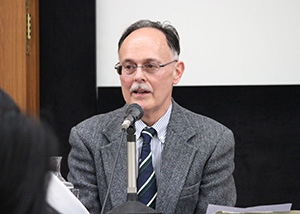 According to his research, over a thousand works of shunga paintings, books, and print series were created between 1600 and 1900. Much of the material is of the highest technical quality as art, comparable with the best non-shunga art. Both men and women seem to have been consumers, as well as old and young, rich and poor, urban and rural. Commercial lending libraries (kashihon'ya) circulated shunga to households throughout Japan. Shunga does not focus as much on prostitutes as lovers. They were depicted with tenderness and affection. Humor is a quite important element in shunga as it was also called warai-e. The conversation between the protagonists written on the side is amusing as well.
What is particularly interesting from the academic point of view is what art in general meant in a feudal society with social classes. Tokugawa government did not allow public discussion about the government, individuals in the government, or the Tokugawa family at all. The only way to comment openly on social and political matters was through indirect means of fictional literature and arts. In addition, the Edo period saw a stricter sexual morality as a result of the permeation of Confucian values. Professor Gerstle pointed out that the proliferation of popular Edo arts sprang from the people's irreverent feelings toward the Tokugawa samurai government or to such orthodox morality.
In the late 19th century, Japanese arts including ukiyo-e and shunga had a tremendous impact on Western artists such as Rodin, Picasso, and Toulouse-Lautrec with the rise of the Japonisme movement. Paintings were never the object of censorship in Japan and even American Commodore Matthew Perry was given shunga paintings by the Tokugawa government, which proves that shunga were seen as auspicious. After the Meiji Restoration in 1868, however, Japan went through a drastic modernization under Western values. As part of this process, shunga art, obviously the most disreputable part of ukiyo-e, was essentially banished, even from academic fields, and was forgotten about until recent years. Professor Gerstle emphasized shunga's social and academic value, saying that shunga discourse is an indispensable part of Japanese traditional culture and should be studied openly.
Yano Akiko, research associate at SOAS, London University, commented on the reaction from the general public as well as the British media to the exhibition in 2013, which was overall very favorable. Although hosting such an exhibition seems impossible in Japan, where the taboo against shunga remains deep and wide, she encouraged the audience to visit an upcoming shunga exhibition being planned by the Eisei Bunko Museum in Tokyo for this fall.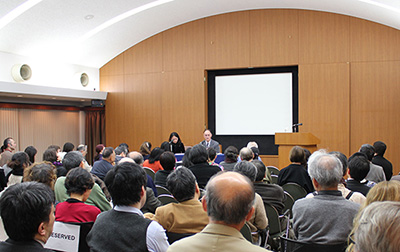 ---
*I-House has started a series of forums in collaboration with Nichibunken to deepen the understanding of contemporary Japan from various perspectives.
---