This event now concluded. Report available here.
Lecturer: Lee Ae-sook
(Professor, Korea National Open University/ Visiting Research Scholar, Nichibunken)
Date: Thursday, December 10, 2015, 6:30-8:00 pm
Venue: Lecture Hall, International House of Japan
Language: Japanese (without English interpretation)
Co-organized by the International House of Japan and the International Research Center for Japanese Studies (Nichibunken)
Admission: Free

(reservations required)
The Tale of Genji (Genji Monogatari) is widely enjoyed as a Japanese classic naturally enough through modern translations but also as processed culture such as movies and manga. The lavish images it evokes through words such as "dynasty" and "women" have been circulated and consumed in the modern world. In addition, The Tale of Genji has been translated in many languages, which led to its status as an apex of Japanese literature and culture. In neighboring Korea, it has been introduced as a tale of dynasty of a foreign country via its Korean translation, manga, animation and movies. Though it seems that it is received widely in Korea also, the reality is different. Genji Monogatari is almost obscure. How can we analyze this contradiction? Paradoxically, from there a possibility of Genji Monogatari as world literature may be developed. In this program Professor Lee will interpret Genji Monogatari focusing on "dynasty" and "women's literature."
Lee Ae-sook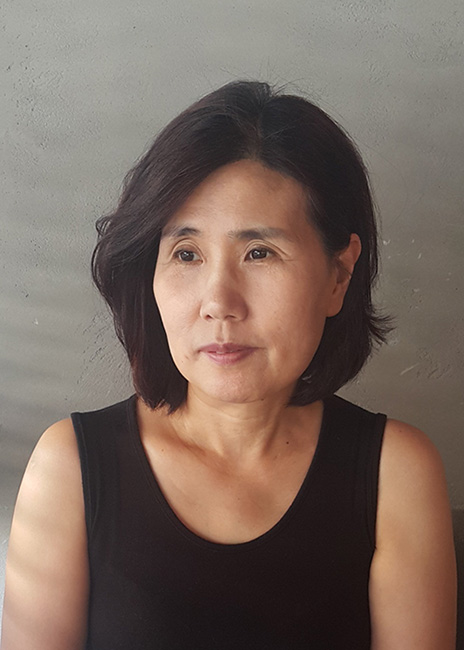 Ph. D. at University of Tokyo for Japanese Literature(1995). Now a professor of Department of Japanese Studies at Korea National Open University. Field of specialty ; Monogatari Of Heian Dynasty. Recent publications have been centered around comparative literature and cultural studies of Japanese and Korean literature, which include Women and Literature of Dynasty Period – In the Case of Japan and Chosun (March 2013, Shinwasha) and Color Analysis of Dynasty Literature (March 2015, Kasamashoin).
Report
Lee Ae-sook has been an avid fan of The Tale of Genji for 30 years. The professor of Japanese studies at Korea National Open University, who is now a visiting research scholar at Nichibunken, shared her love for what many consider to be the world's oldest novel, engagingly describing its universal appeal, similarities between the literary works of Japanese and Korean noblewomen, and the challenges posed by translation into Korean.
Genji as World Literature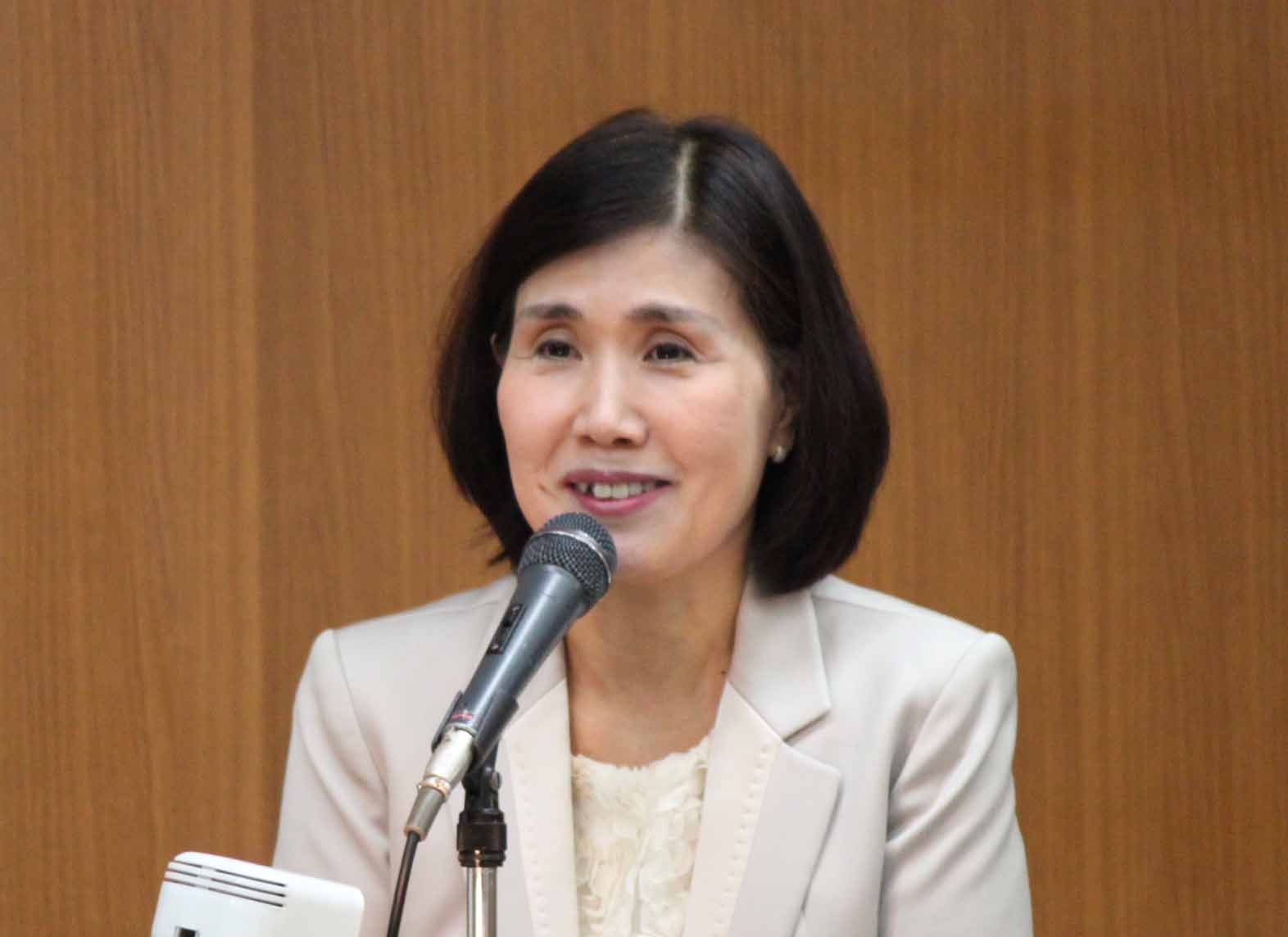 Lee discussed The Tale of Genji from a comparative perspective, assessing whether it qualifies as "world literature"—which she defined as a work that, through translation, continues to be read over time and in different countries. Genji is a Japanese literary classic written early in the eleventh century by an imperial lady-in-waiting, Murasaki Shikibu. It continues to be read a millennium later, not only in the original but also as translations into modern Japanese, English, Korean, Chinese, Italian, French, Russian, Spanish, Swedish, Dutch, Czech, and Croatian.
"There's no question that Genji is a work of world literature," Lee asserted, but she also remarked that international recognition among general readers is not very high when compared to better-known works by Shakespeare and Tolstoy. In illustrating the reasons for this, she drew on examples from her native South Korea.
Japanese Culture in South Korea
Japanese popular culture was long banned in public in her country, even after bilateral relations were normalized in 1965 (Korea was a colony of Japan from 1910 to 1945). A process of gradual liberalization was launched following the 1998 visit to Japan by President Kim Dae-jung, leading to the full lifting of the ban in 2004. Genji was translated in full four times between 1973 and 2008, but because of the government ban on Japanese culture, the initial translations were very low-key and rather opaque, being largely incomprehensible for those without specialist knowledge. "These works were 'transplanted' into Korean at a time when most people had no understanding of Heian court life," Lee noted.
Riding the boom in contemporary Japanese fiction following liberalization, though, ornately designed Korean translations were published in 2007 and 2008, respectively, of Setouchi Jakucho's remake of Genji into modern prose and of Asakiyumemishi, the manga adaptation of the Heian-period epic. Perhaps because of the overly visual orientation of these publications, many Korean readers mistook them for shojo (girls') manga and found them to be lacking in realism. "As a consequence," Lee lamented, "the availability of new translations in itself wasn't enough to expand the readership." The initial 1973 translation was revised and republished in 2015, "But I was shocked when I saw the front cover," Lee recalls. "It has nothing to do with the Heian period. It's an ukiyo-e print from the Edo period!"
A Very Human Drama
Lee believes that scholars like her need to do more to promote a fuller understanding of Japanese literature among Korean readers. "After all, The Tale of Genji is a true work of world literature," she said. She sees the novel as an important part of Japan's cultural heritage, offering a glimpse into the rich and resplendent life of the imperial court during Japan's dynastic period—as can be gleaned from the illustrated Genji handscroll dating from the twelfth century (a national treasure of unknown authorship, in the collection of the Tokugawa Art Museum and Gotoh Museum).
She also finds the story itself very appealing. Why, she asks, does this tale of the triumphs and trials of the Shining Prince, depicted through his amorous adventures and political struggles, leave such a strong impression on readers a millennium later? "I believe this is because readers discover a very human drama with which they can sympathize," Lee noted. "The fact that she was able to so poignantly depict the vicissitudes of the heart in her characters shows that Murasaki Shikibu was a highly astute observer of human nature."
Literature as a Mode of Self-Expression
It was in eleventh-century Japan that women first began producing enduring works of literature, and women writers later also became prominent in the dynastic and aristocratic societies of seventeenth century Korea and France. Of great interest in this regard is that the emergence of women writers had an impact on Japanese and Korean orthography, since they frequently opted to write in kana and hangul syllabaries, rather than a style centered on kanji and hanja, preferred by men.
"Women writers were often forced into passive roles in male-dominated societies, but they were able to express themselves quite dynamically in their literary works," Lee commented. "This strategic use of écriture (writing) was a common feature of women writers in many different cultures."
Seeing Genji from a foreign perspective highlights aspects of the novel that are not readily apparent when read in the original, and this has reaffirmed Lee's conviction that the novel is not only a classic of Japanese literature but also ranks among the masterpieces of world literature. She hopes one day to publish a translation of her own, she concluded, guided by the hope that it will gain the international recognition it deserves alongside other world classics like the plays of Shakespeare.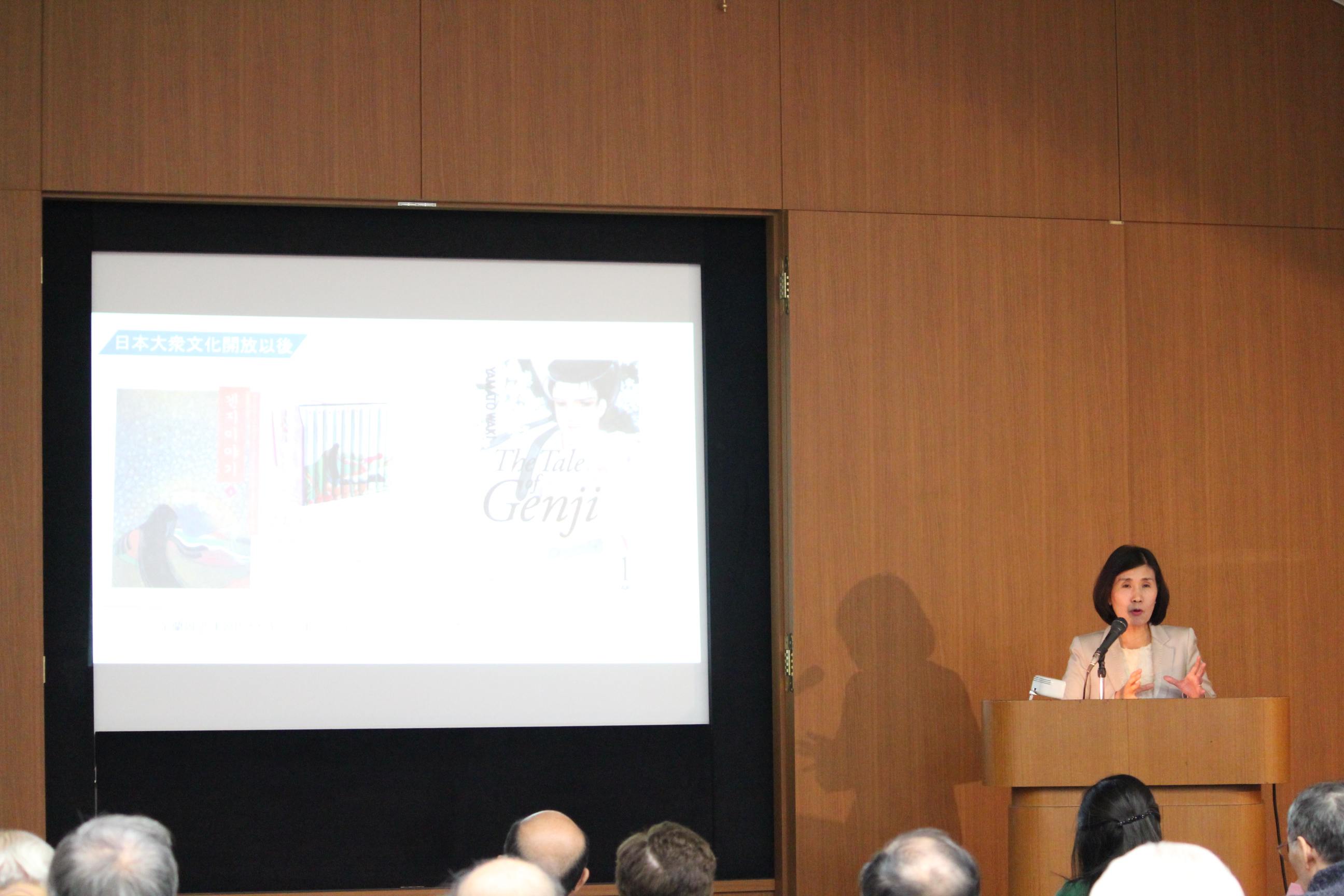 ---
*I-House has started a series of forums in collaboration with Nichibunken to deepen the understanding of contemporary Japan from various perspectives.
---