*This program has finished.
Lecturer: Hosokawa Shuhei (Professor, Nichibunken)
Commentator: Angelo Ishi (Professor, Musashi University)
Date: Friday, July 27, 2018, 6:30-8:00 pm (Doors open at 6:00 pm)
Venue: Lecture Hall, International House of Japan
Coorganized by International Research Center for Japanese Studies (Nichibunken)
Language:

Japanese

(without English interpretation)
Admission: Free
Seating: 100

(reservations required)
It has been 110 years since Japanese immigration to Brazil officially started in 1908. Today Brazil is home to the largest Japanese population outside Japan. Engaging in agriculture and commerce to support their lives, these Japanese migrants often looked for opportunities to get together with their fellows, seeking recreation and a sense of home away from home. For them, gatherings served as a defense mechanism against the majority Brazilian society, a chance to reconnect with their home country and collect information, and a space to express themselves in their mother tongue and associate with younger generations.
This lecture will examine various occasions when Japanese Brazilians got together in their history, such as haiku circles and the film screening sessions that had already started in the 1910s or the '20s, and a movie theater specializing in Japanese films in business for more than 30 years from the '50s. Amateur singing contests and karaoke competitions also became popular in the '50s.
Angelo Ishi (Professor, Musashi University)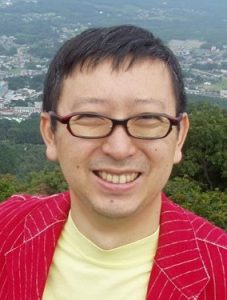 A Brazilian of Japanese descent who was born in São Paulo and has lived in Japan since 1990, when he got a scholarship from the Japanese Ministry of Education and started his research on Japanese-Brazilian migrants. Member of the Board of Nihon Imin Gakkai (The Japanese Association for Migration Studies) as well as the Board of Kaigai Nikkeijin Kyokai (The Association of Nikkei and Japanese Abroad). He is a contributor to
Searching for Home Abroad: Japanese-Brazilians and Transnationalism
(Duke University Press, 2003) ,
Global Japan: The Experience of Japan's New Immigrants and Overseas Communities
(Routledge Curzon, 2009) and
Transcultural Japan: At the Borderlands of Race, Gender, and Identity
(Routledge Curzon, 2009). He also joined the Working Group on the Development of Multicultural Coexistence of the Japanese Ministry of Internal Affairs, which created the guidelines for "Multicultural Coexistence" programs in Japan.