This event now concluded.
Lecturer: Mauricio Martinez Rodriguez (Visiting Research Scholar, Nichibunken)
Commentator: Richard Emmert (Professor, Musashino University)
Date: Wednesday, June 5, 2019, 6:30-8:00 pm (Doors open at 6:00 pm)
Venue: Lecture Hall, International House of Japan
Coorganized by International Research Center for Japanese Studies (Nichibunken)
Language: English (without Japanese interpretation)
Admission: Free
Seating: 100

(reservations required)
  Spanish is a language spoken by 577 million people. Japan is known to those speakers through the publications of Japanese classical and modern literature and on other subjects, but the prints on performing arts are very rare, and considering the geographical range of countries where Spanish is spoken, distribution is not easy. To fill this gap, Prof. Martinez has been establishing a Web Encyclopedia of Japanese Performing Arts in Spanish, which introduces to the Spanish-speaking world Japanese traditional music, dance, theater, intangible heritage, and the Okinawan and Ainu cultures.
  In this lecture, Prof. Martinez will talk about the concept and process of this ambitious undertaking, as well as the charm of Japanese performing arts he is trying to convey to non-Japanese speakers.
Richard Emmert (Professor, Musashino University)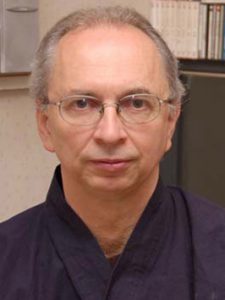 Professor of Asian performing arts at Musashino University, he is a certified Kita school noh instructor. Author of several books on noh published by the National Noh Theatre, Tokyo, he directs the summer intensive Noh Training Project UK at Royal Holloway, University of London, and organizes the Noh Training Project Tokyo conducted by the Kita School and Theatre Nohgaku. Founder of Theatre Nohgaku, he has composed and directed English noh productions and led noh projects and workshops throughout the world.