This event now concluded. Report available here.
Lecturer: Niwa Uichiro
(Former Japanese Ambassador Extraordinary and Plenipotentiary to the People's Republic of China)
Date: Sunday, August 10, 2014, 1:30-3:00 pm
Venue: Iwasaki Koyata Memorial Hall, International House of Japan
Language:

Only available in Japanese

(without English interpretation)
Admission: Free

(reservations required)

, Seating: 160
The Japanese economy and society is facing various challenges such as a low birth rate and aging. We will discuss what we can do to better secure Japan's future also observing China's future, since we can no longer talk about the world without considering China.
Report
Former Itochu Chairman Niwa Uichiro who, between 2010 and 2012 served as Japan's first ambassador to China from the private sector, offered a vivid account of China based on his firsthand experiences. He shared his thoughts on Japan's ties with its giant neighbor going forward as well as on the kind of country Japan should seek to become in the future.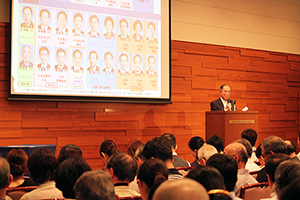 Drawing an analogy to the parable about a group of blind men who each touch only one part of an elephant and disagree on what the animal is like, Niwa said that China is a country with 33 highly distinct province-level administrative divisions and that gaining an understanding of the whole can be difficult if one looks at only one part. In taking note of a "rising China," some assert that it may one day become a hegemonic power, while others point to weaknesses in the Communist Party and predict that it will eventually crumble. Gaining a full, accurate understanding of China requires a renewed look at history, particularly contemporary Japanese history, Niwa said.
He pointed to evidence that the bilateral relationship, although marked by tensions today, has made great strides over the 42 years since the normalization of diplomatic ties in 1972. There were only 10,000 annual visitors to each other's country four decades ago, but that number has now mushroomed to 5.4 million. The volume of trade has jumped from $1 billion to $330 billion.
As for the possibility of holding a bilateral summit during the Asia-Pacific Economic Cooperation meeting in Beijing in November, Niwa felt that this would require major concessions on at least one of the two big stumbling blocks to closer relations: the Senkaku dispute and different perceptions of history. In light of recent comments by the two leaders, he said he was rather pessimistic. He expressed optimism, though, that there could be a thaw by next spring, when Xi Jinping is expected to have solidified his grip on power through personnel appointments.
A country's history, Niwa added, is built on the efforts of its leaders and the public, and he praised the sacrifices made over the past four decades to elevate the Japan-China relationship to where it is today. No one has the right to trample on those efforts, he said, regardless of the decisions made by the two countries' leaders today. He urged Prime Minister Abe Shinzo and President Xi to consider the weight of history, noting that improved ties would require an early bilateral summit.
He also underlined the importance of education if Japan is to maintain a certain level of economic dynamism in the face of a declining birthrate and aging population. He pointed out that while education was the driving force behind Japan's postwar economic miracle, the country now ranks among the lowest of the 34 countries in the Organization for Economic Cooperation and Development in spending on public education as a share of gross domestic product. Nothing new results from building roads and tanks, he said; innovations are, rather, the result of human ingenuity, so investing in people is the most efficient form of public spending. He concluded his remarks by expressing the hope that greater emphasis would be given to education in the Abenomics policy of economic growth.