This event now concluded. Report available here.
Lecturer: Jesper Koll (Managing Director and Head of Japanese Equity Research, JPMorgan Securities Japan Co., Ltd.)
Date: Saturday, November 15, 2014, 1:30-3:00 pm
Venue: Lecture Hall, International House of Japan
Language:

Only available in Japanese

(without English interpretation)
Admission: Free

(reservations required)
Known as Japan's last optimist, Mr. Koll will present the case for new prosperity cycles in Japan. He will focus on the interplay between economic forces and generational transition, as well as highlight potential obstacles based on his longstanding experience witnessing the decision-making dynamics of Japan's leadership.
Report
Illustrating the links between economic growth and demographic trends, Jesper Koll—a longtime researcher of the Japanese economy—boldly predicted that Japan would usher in a "new golden age," although challenges remain to be overcome.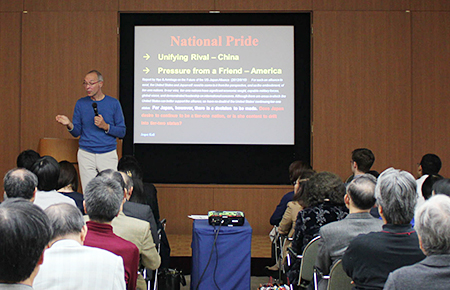 He based this unique claim on the wealth of intellectual property in Japan. Even during the so-called "two lost decades" of the 1980s and 1990s, Japanese companies continued to boost their forward-looking investments into research and development. From an economist's perspective, he said, such spending on new technologies and innovationsis crucial to the accumulation of patents and other intellectual property, without which there will be no bright future. Japanese companies even in such "traditional" sectors as shipbuilding are investing aggressively in new technologies, so there is no overconcentration of patents in any particular industry. Many manufacturers are global players, and Japan thus has strong fundamentals thanks to such spending on R&D.
How will the new golden age differ from the one Japan experienced three decades ago? Koll cited political stability under the current Abe Shinzo administration as a positive factor, noting that the prime minister is likely to remain in office for another four to five years—unlike many of his predecessors, whose tenures lasted no more than two years. He also applauded Abenomics for not only pursuing economic growth but also tackling issues in a coordinated, realist fashion. China will be a key component of the new golden age, he said, as the Japanese and Chinese economies will become more closely integrated. Japan will need to discuss tough questions out in the open, including those relating to mounting public debt and defense, and make some hard decisions—even at the risk of ruffling a few feathers. Such debate should help solidify the golden age to come.
While taking note of the fact that Japan has become a net importer of goods and services and that it has joined the ranks of debtor countries, Koll pointed out that unemployment has been falling at the same time, adding that even if companies continue to invest in plant and equipment overseas, this will not have negative repercussions as long as there are tradeoffs. Many Japanese businesses may have difficulty raising funds on the market without offering high returns or in the absence of a solid growth strategy, but such constraints are inducing them to boost profitability and streamline management, thus actually enhancing the efficiency of the economy as a whole.
The falling birthrate and aging of society will impact on the balance of supply and demand in the labor market, resulting in higher shares of regularly employed workers, increased wages, and the emergence of a "new middle class". The boost in consumers' purchasing power will likely compel businesses to hire more women and improve in-house training programs to raise productivity. Koll concluded his presentation by highlighting the concentration of assets in the hands of the elderly and predicting that the Japanese economy should continue to grow, driven by sectors like high-end nursing homes and other services, healthcare, agriculture, energy, software, and education.
---