In addition to the print version, some extra content is available here.
Many Gifts by Maki Fumihiko
The first time I visited I-House was in 1958. I had just returned from the United States to prepare for a tour of world architectural sites on a grant from the Graham Foundation. To be more accurate, I suppose I should say that I visited the home of Matsumoto Shigeharu, one of two private residences that were located in the rear of the present grounds of I-House. My wife Misao (Matsumoto Shigeharu's eldest daughter) lived there at the time with her parents. I still remember vividly that my future father-in-law Shigeharu treated me to a lunch of the roast beef for which its dining room was famous.
The most memorable event for me was probably our engagement reception, which coincided with the visit of Mr. and Mrs. John D. Rockefeller III to Japan, and was held in the lobby overlooking the garden (see photo). It was attended by a large number of people, friends of both our families, and I am still amazed from time to time when old college friends remember the event even better than I do, saying, "Oh, I met so-and-so there!"
Perhaps most important for me was making the acquaintance of the great architects Maekawa Kunio, Sakakura Junzo, and Yoshimura Junzo, who were chosen to design I-House through the good offices of the Matsumoto family. At the time I was still a young architect, and my encounter with them would immeasurably enrich my later life and career as an architect. José Luis Sert, my mentor during my years studying at Harvard, had worked with Maekawa and Sakakura in Le Corbusier's office in the 1930s, and as a result of this connection had shown even greater kindness ot me as an aspiring young architect from Japan. During my time at Harvard I also had an opportunity to visit the home of Walter Gropius, who had himself visited at the invitation of I-House.
As is well known, I-House is located on the site of the former Iwasaki mansion. I happened to run into Torii Yasuhiko, former president of Keio University, at I-House one day, and he told me that the Torii family residence had once been located nearby, which is why the slope up to the entrance is known as Toriizaka. The garden of Roppongi Hills was also once a mansion of the Mouri family, so the entire area surrounding what is now I-House must have been a quiet district of samurai residences. The Austrian Embassy, located about halfway down Kurayamizaka after crossing the intersection at the foot of Toriizaka, and the TV Asahi Building in Roppongi Hills are both buildings that I designed, and I often had lunch at I-House after meetings related to these projects.
So I can say that I-House has given me many gifts in the course of my life. Whenever I look out over the garden, as lovely now as ever, numberless waves of memory come back to me.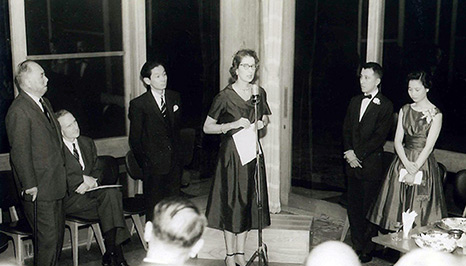 (From left: Koizumi Shinzo, John D. Rockefeller III, Matsumoto Hiroshi,
Blanchette Rockefeller, and Mr.and Mrs. Maki)
Maki Fumihiko


Architect. After graduated from the Department of Architecture, Faculty of Engineering, University of Tokyo in 1952, he went to the United States, where he completed the master degree program at Harvard University. In 1965, he founded Maki and Associates, and since then has undertaken many major architectural projects in Japan and abroad, including Hillside Heights, Spiral, Makuhari Messe, and the Media Lab complex at MIT. In 1993, he was awarded Pritzker Prize, which is often regarded as the "Nobel Prize for Architecture". His design for 4 World Trade Center, a skyscraper on the former World Trade Center site in New York City, was completed in November 2013.