This event now concluded. Report available here.
Speakers: Tash Aw (Malaysia), Kim Yeonsu (Korea), Uthis Haemamool (Thailand), Nakajima Kyoko (Japan)
Moderator: Hirano Keiichiro (Writer)
Date: Thursday, March 6, 2014, 6:30-8:00 pm
Venue: Iwasaki Koyata Memorial Hall, International House of Japan
Seating: 180
Language: English / Japanese (with simultaneous interpretation)
Co-organizer: The Nippon Foundation
Sponsored by The Japan Foundation
Admission: Free

(reservations required)
The Tokyo International Literary Festival (founded by the Nippon Foundation) has been held since 2013 to promote Japanese literature abroad and Tokyo as a literary focus of the world coming abreast of New York, London and Paris. The aim is to bring together leading novelists, poets, editors, and translators and to encourage new dialogue about books from different countries and cultures. As part of the festival, I-House will co-organize the above session.
Report
Available in Japanese.
Tash Aw (Malaysia)
Tash Aw is the author of three novels, The Harmony Silk Factory, Map of the Invisible World and Five Star Billionaire, which have won the Whitbread and Commonwealth Prizes and twice been longlisted for the MAN Booker Prize; they have also been translated into twenty four languages. His short fictions have won an O. Henry Award and been published in A Public Space and the landmark Granta 100, amongst others.
Kim Yeonsu (Korea)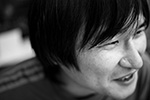 Kim Yeonsu was born in 1970. He graduated with a degree in English Literature from Sungkyunkwan University. Kim made his debut in 1993 with a poem in the journal Jakka Segye (Writer's World) and the next year published a novel Larvatus Prodeo (Gamyeon-eul Gariki-myeo Geotgi). His third novel, Good Bye Lee Sang was met with a critical reception worthy of a masterpiece at the very pinnacle of humanistic imagination. The novel, as a whole, is animated by the author's own meticulous and in-depth study of Lee Sang, the Korean existentialist writer of the 1930's who produced some of the most exotic and complex stories in Korean literary history. Good Bye Lee Sang is concerned with the question of truth and of existence as well as the very definition of literature which, in Kim's view, are not mutually exclusive. "The reason why I write," the author has said," is to find out whether the truth does indeed exist in the act of writing." He has received Dongseo Literary Award and other awards including Dong-in Literary Award, Daesan Literary Award, Hwang Sun-won Literary Award, Yi Sang Literary Prize. Kim has published 5 collections and 8 novels.
Uthis Haemamool (Thailand)
Uthis Haemamool, born in 1975, has published four novels and several collections of short stories and criticism. His third novel, The Brotherhood of Kaeng Khoi, won the Seven Book Awards competition and the S.E.A. Write Award. In 2010 Uthis gave lectures in four Japanese cities as part of the Japan Foundation's Takeshi Kaiko Memorial Asian Writers Lecture Series.
Nakajima Kyoko (Japan)
Nakajima Kyoko, born in Tokyo in 1964, worked as an editor after graduating from a college and debuted as a novelist in 2003 with Futon (publisher: Kodansha). She writes novels, novellas and essays. She was the recipient of the 143rd Naoki Prize for Chiisai ouchi [The Little House] (Bungei Shunju 2010).
Moderator: Hirano Keiichiro

(Photo by
Toshiko Kojima)
Hirano Keiichiro, born in Aichi Prefecture in 1975, raised in Kita-Kyushu and graduated from the Law Department of Kyoto University. His first novel, Nisshoku (L'Eclipse), was serialized in 1999 by the literary magazine Shincho; the novel went on to win the Akutagawa Prize. Hirano has since published other fiction—among them Funeral, Ripples the Dripping Clocks Make, Collapse, Dawn, The Only Form of Love, and most recently Fill in the Blanks—as well as collections of essays and interviews. His work has been translated into several languages.