This event now concluded. Report available here.
Lecturer: Park Won-soon (Mayor of Seoul, Republic of Korea)
Date: Tuesday, February 3, 2015, 3:00–4:30 pm
Venue: Ono Memorial Hall, Waseda University
Organiers: Waseda Research Institute for Korean Studies; Graduate School of Asia-Pacific Studies, Waseda University
Co-organized by: International House of Japan
Supported by: The Japan Foundation, Asia Center
Language: Korean (with simultaneous interpretation)
A former social activist, Seoul Mayor Park Won-soon has been promoting a participatory style of city government, advancing progressive policies emphasizing welfare, the environment, and renewable energy since being elected in 2011. These policies have been popular with the public, and he was reelected in June 2014. In February 2015 he made an official visit to Japan on the invitation of Tokyo Governor Masuzoe Yoichi, and a lecture at Waseda University—attended by some 300 people—was organized in response to his desire for dialogue with the people of Japan.
Report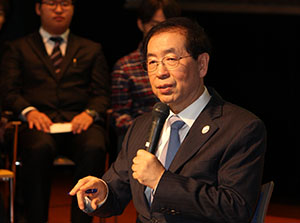 Mayor Park first listed the common social challenges faced by South Korea and Japan, such as a falling birthrate and aging population, youth unemployment, the environment, energy, and city regeneration, and called for the two countries to work together in seeking solutions, thereby contributing to the global community. Emphasizing the concepts of "local to local" and "people to people," he called on the two countries' local governments to advance initiatives that are difficult to organize at the national level. Indeed, when Tokyo Governor Masuzoe Yoichi visited Seoul in July 2014, the two cities signed an agreement confirming exchange and cooperation on measures covering such issues as urban safety, air pollution, and disaster rescue. Mayor Park noted that as 70% of the world's population is projected to live in urban areas by 2050, the search for solutions to global challenges must begin in the cities, where many of the problems originally emerged. He added that efforts to resolve issues associated with urbanization, such as energy, employment, disaster prevention, the environment, and crime, through "city-to-city diplomacy" could contribute to closer relations between the two countries.
The responsibilities that a mayor of a city of 10 million can fulfill alone are limited, Park said, so it is important to achieve governance together with citizens, adding that a slogan he regularly uses is, "The citizens are the mayor." One initiative he has launched is sotong (communication) administration, which promotes not just communication but ongoing dialogue to foster mutual understanding and build consensus. This concept has become a buzzword in recent years in Korean politics and society. Believing that understanding starts with listening to the citizens, he has actively toured locations throughout the city on more than 120 occasions. He has also organized forums for policy debate between ordinary citizens and experts of various orientations, including even those opposed to his policies. Through such dialogue, Seoul was able to overcome its energy crisis of "reducing one nuclear power plant": By adopting various ideas suggested by residents, the city cut its energy consumption by an oil equivalent of 2 million tons by the target date of 2014. Such "Seoul model" initiatives have been embraced by 21 other municipalities.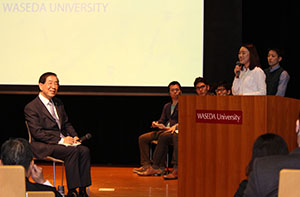 Touching on Japan-Korea relations, Mayor Park sadly noted that the bridge spanning the two neighbors is in disrepair, despite the fact that 2015 represents the seventieth anniversary of the end of World War II (which in South Korea is called gwangbok, or "restoration of light") and the fiftieth anniversary of the normalization of Japan-Korea relations. "Now is the time," Park said, "to reflect on the past, face the present, and move on toward tomorrow." Quoting a Japanese proverb that even the finest delicacies taste bland when dining alone, he exhorted the people of Japan and South Korea to achieve closer cooperation. "A single step by a hundred people is more important than a hundred steps by a single individual," he said, adding, "Dreams that are shared become reality." He concluded his remarks by calling for the revival of the BeSeTo (Beijing-Seoul-Tokyo) framework of exchange among the capitals of China, South Korea, and Japan, adopted by the mayors of the three cities in 1995.
(Photos by the Institute of Korean Studies, Waseda University)
---