This event now concluded. Report available here.
Lecturer: Richard Emmert (Professor at Musashino University, Art Director of Theatre Nohgaku)
Date: Monday, December 14, 2015, 7:00-8:45 pm
Venue: Kabayama-Matsumoto Room, International House of Japan
Language: English (without Japanese interpretation)

Admission: 2,000 yen (1,500 yen for IHJ members and students; Free for guests staying at I-House on December 13 or 14)

Please pay in cash at the reception.

Seating: 80

(reservations required)
I-House and KISAKO Intercultural Institute are offering English sessions on Japanese culture which can lead to new awareness both for non-Japanese and Japanese. For the next session we have invited Professor Richard Emmert to talk about the world and history of noh. In traditional Japanese culture, noh is likely to be thought especially difficult and intimidating. Professor Emmert has studied all aspects of noh performance, such as dance, song and instruments for some 40 years and taught it to many foreigners. He will show us how to enjoy noh and explain its world view with demonstration.
Here
is a message from Professor Emmert.
Report

*No part of the content on this website may be used, edited, or reproduced in any manner without prior permission.
Richard Emmert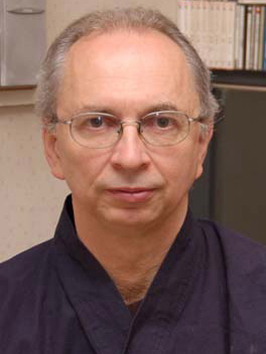 Professor of Asian performance at Musashino University in Tokyo. He has studied, taught and performed classical noh drama in Japan since 1973 and is a certified Kita school noh instructor. While directing an on-going Noh Training Project in Tokyo, he led for twenty years an intensive three-week summer Noh Training Project Bloomsburg in Pennsylvania (US) sponsored by the Bloomsburg Theatre Ensemble, and still leads the Noh Training Project UK sponsored by Royal Holloway, University of London. He has co-authored with Monica Bethe a series of
Noh Performance Guides
published by the National Noh Theatre. In addition, he has led noh performance projects in Australia, Colombia, India, Hong Kong, the UK, the US, Canada, France, Malaysia, Indonesia and Singapore; has composed, directed, and performed in eleven English language noh plays, most recently Blue Moon Over Memphis, a noh play about Elvis, and Oppenheimer, a play about the creator of the atomic bomb, the latter in Sydney, Australia. The founder and artistic director of Theatre Nohgaku, a company dedicated to performing noh in English, he has led performance tours of the company in the United States, Europe and Asia.
---