This program has finished.
Lecturer: Gerry Yokota (Professor, Osaka University)
Date: Friday, December 1, 2017, 6:00-7:30 pm
Venue: Iwasaki Koyata Memorial Hall, International House of Japan
Language: Japanese (without English interpretation)
Organizers: International House of Japan, Inter-University Center for Japanese Language Studies, and Nippon Foundation
Admission: Free (reservations required)
The Tokyo Show at the closing ceremony of the 2016 Rio Olympics featured Prime Minister Abe transformed into Mario, while the show at the Paralympics featured a dance performance to J-pop music with visuals clearly indicating homage to Sei Shonagon's Pillow Book. Both shows thus incorporated a complex hybrid of traditional and contemporary Japanese culture. What were the creators trying to convey? What was actually conveyed? What is the meaning in today's world of tradition as a mediator in intercultural communication? In this lecture, Professor Yokota will explore these questions by unearthing symbols and metaphors embedded in cultural arts like noh and anime.
Gerry Yokota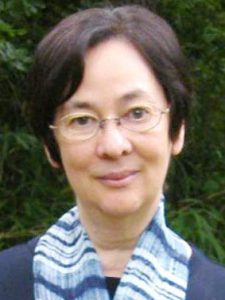 Professor Yokota attended the IUC during the 1978—79 academic year and received her doctorate in Japanese Literature from Princeton University. She has spent her entire academic career at Osaka University, becoming a full professor in the Graduate School of Language and Culture in 2002. She is the author of The Formation of the Canon of Nō: The Literary Tradition of Divine Authority and editor of the two-volume Gender and Japanese History (both published by Osaka University Press). Her current research is in the area of comparative rhetoric and cognitive linguistics as foundations for developing the most effective use of media for intercultural communication, with a focus on the meaning of tradition in the contemporary world. She also conducts research in new noh.
---
*This lecture series is part of the Nippon Foundation Fellows Program at the Inter-University Center for Japanese Language Studies.
---