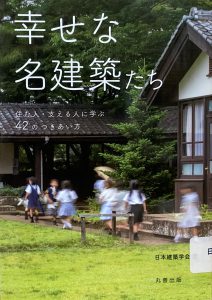 Shiawase na Meikenchiku tachi is a collection of interviews originally published in Kenchiku Zasshi (Architectural Magazine) between 2014 and 2017. It introduces 42 masterpieces of architectural design in Japan, some of which are no longer standing. Their ages ranging from 30 years to over 160 years, the structures include not only residences but also schools, hotels, and even railway stations.
The description of each building not only details its features and history but is augmented with anecdotes on how people have fondly interacted with it over the years.
One of the buildings appearing in the book is the International House of Japan. The land on which I-House stands today previously belonged to the lord of the Tadotsu Domain (now in Kagawa Prefecture), Meiji oligarch Kaoru Inoue, Prince Kuninomiya, businessman Tetsuma Akaboshi, and Koyata Iwasaki of Mitsubishi's founding family. The I-House building, co-designed by three masters of Japanese modernism—Kunio Maekawa, Junzo Sakakura, and Junzo Yoshimua—was completed in 1955 and received the Architectural Institute of Japan Award in 1956. Koyata Iwasaki tapped master landscape gardener Jihei Ogawa VII of Kyoto to build the garden, and it was designated a place of scenic beauty by Minato Ward in October 2005.
Despite its illustrious history, the I-House building was earmarked to be rebuilt due to its aging facilities. But voices advocating its preservation prevailed, and large-scale renovations were carried out to reinforce its earthquake-resistance while leaving the appearance of the building and the balance with the garden almost in their original state. The restoration work was completed in 2006, and I-House, which continues to thrive today as a hub for international intellectual exchange, can be said to be an excellent example of a "blessed building."
Shiawase na Meikenchiku tachi is a book that, as postulated in the afterword, makes us think about the kind of architectural landmarks we should preserve for future generations.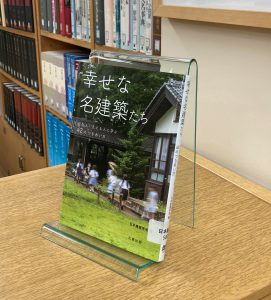 Shiawase na Meikenchiku tachi: Sumu Hito, Sasaeru Hito ni Manabu 42 no Tsukiai-kata (Blessed Buildings: 42 Ways to Keep Architectural Landmarks Happy)
Architectural Institute of Japan, ed.
Maruzen Publishing , 2018

[日本語棚||500]

Publisher description:
https://www.maruzen-publishing.co.jp/item/b302812.html
Period: Teusday, November 1 – Wednesday, November 30, 2022
Place: The Library, International House of Japan