[I-House Ushiba Fellowship Public Lecture / I-House Academy]
"Is There Life After Democracy?" (cancelled)
Due to the earthquake that occurred on March 11th, this event has been cancelled.
[An edited version of this lecture is available in the IHJ Bulletin, Vol.31, No.2, 2011.]
Lecturer: Arundhati Roy, Writer and Essayist
Moderator: Takenaka Chiharu, Professor, Rikkyo University
Date & Time: Sunday, March 13, 2011, 2:00-3:30 pm
Venue: Iwasaki Koyata Memorial Hall, International House of Japan
Admission: 1,000 yen (Students: 500 yen, IHJ Members: Free)
Language: English/Japanese (with simultaneous interpretation)
While we're still arguing about whether there's life after death, can we add another question to the cart? Is there life after democracy? What sort of life will it be? By "Democracy" I don't mean democracy as an ideal or an aspiration. I mean the working model: Western liberal democracy, and its variants, such as they are. So, is there life after democracy?
Arundhati Roy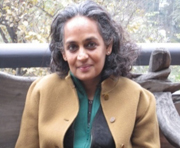 After studying architecture at the School of Planning and Architecture, New Delhi, Ms. Roy started her professional career as a writer of screenplays and later published her first, semi-autobiographical novel,
The God of Small Things
(Flamingo, 1997), which won the Booker Prize and brought her to international prominence. A publicly engaged writer, Ms. Roy has written about issues ranging from India's nuclear test, big dams, neo-liberalism, the American wars in Iraq and Afghanistan, and India's military occupation of Kashmir to, most recently, the civil war unfolding in Central India. For her work in freedom and justice, she received the Cultural Freedom Prize awarded by the Lannan Foundation in 2002, and in recognition of her social campaigns and advocacy of nonviolence, she was given the Sydney Peace Prize in 2004. Her major publications include
The Algebra of Infinite Justice
(Flamingo, 2002),
An Ordinary Person's Guide to Empire
(Consortium, 2004),
The Shape of the Beast: Conversations with Arundhati Roy
(New Delhi: Penguin, Viking, 2008), and
Listening to Grasshoppers: Field Notes on Democracy
(New Delhi: Penguin, Hamish Hamilton, 2009).
Broken Republic
is forthcoming.