We would like to introduce the book Yume no hoteru no tsukurikata.
The world of Japanese hotel architecture has played a role in international affairs in the form of welcoming foreign guests, spinning one part of the the history and genealogy of the Meiji, Taisho, and Showa eras.
And architecture, which takes a lot of space, time, cost, and human resources to complete, with people in different positions such as business owners, architects, builders, repair engineers, hotelmen, and customers, thus inherits a wealth of human relationships.
That intricately woven genealogy has been made three-dimensional throughout this book by the careful interviews and research of the author.
In addition, the author himself has taken beautiful photographs of elegant architectural details, so that you can feel the lively feelings and exchanges of those who have devoted themselves to business and architecture. Scattered throughout this book, they will make you want to visit each hotel.
This book introduces hotels from all over Japan by renowned modern Japanese architects from multiple perspectives. The International House of Japan is introduced with the phrase "a 'house' for international cultural exchange fostered by friendship between Japan and the United States."
The careers and the relationships of Kunio Maekawa, Junzo Yoshimura, and Junzo Sakakura, who left a big mark in the genealogy of the architectural world and were involved in the joint design of the I-House, and the stories of Walter Gropius, Le Corbusier, Antonin Raymond, William Merrell Vories and the I-House are very readable.
After reading this book you are sure to have a new way of looking at architecture and at the Japan where their architecture stands quietly in each locality.
Yume no hoteru no tsukurikata
X-Knowledge, 2020.12
[日本語棚||500]
Publisher description:
https://www.xknowledge.co.jp/book/9784767828114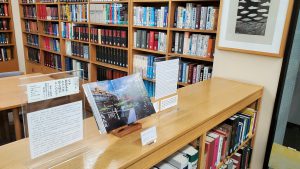 Period: Monday, February 1 – Wednesday, March 31, 2021
Place: The Library, International House of Japan