Seyed Alavi, Installation Artist
March 3-Aug. 31, 2002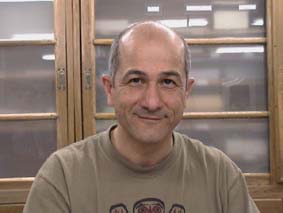 Seyed is an installation artist originally from Iran who arrived in the US at age 17. He used his residency in Japan as an opportunity to further develop his visual language and expand his cross-cultural understandings. He resided in Kyoto and, in his own words, "experienced the spaces of contemplation and learned more about how art and life has become integrated to such a high degree in Japanese culture." He spent his time observing contemporary galleries, art centers, museums, gardens, temples, shrines, tea farms, sumi ink factory, a traditional indigo dyeing center and many performances of Japanese traditional performing arts. Although he spent most of his time expanding his perceptions of the Japanese culture and its arts, he began one site specific project, "partially inspired by the weather and partially inspired by some of the traditions and rituals in Japan." He recently was able to work on this project in the US, at a local university gallery. Seyed's numerous exhibitions and installations in American public and private spaces can be viewed at his website,
―
Kenneth Fries, Writer
May 7-November 6, 2002
Kenny, a creative non-fiction writer, came to Japan in order to research and continue his non-fiction work in progress, The History of my Shoes: Theme and Variations on Darwin, the Body and Cultural Difference. As a disabled person, he was interested in how Japan views and treats its disabled and how the disabled view themselves in Japan. Once here, however, he found himself "overwhelmed by an abundance of new cultural experiences and constantly faced with unfamiliar but emotionally encompassing sights and sounds." This led him to resume writing poetry, which he had not done for over four years. He also became deeply interested in the traditional Japanese garden and their subtly of expression and began writing poetry about them. "What emerged was a sequence of poems that on the surface describe what can be found in the gardens. However, just as Japanese gardens suggest a microcosm of what it means to be alive in the mortal world, the poetry pointed to deeper meanings below the surface." Using the collaborative grant money, he had the poems set to music for voice and shakuhachi and performed them in a program, In the Gardens of Japan presented at the International House of Japan on November 22, 2002.
―
Lisa Vice, Novelist
May 30, 2002-Nov. 29, 2002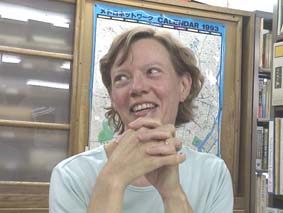 Lisa, a novelist, came from the wide, open spaces of Wyoming. She came in order to develop ideas, impressions and thematic material for eventual use in her novels and short stories. This she did by experiencing the daily life, customs, and traditions still alive in the old sections of Tokyo and the countryside near Aizu Wakamatsu in Fukushima Prefecture. She wrote incessantly about her observations: "I have filled dozens of notebooks with very detailed observations of Japanese culture and the daily life of the neighborhood. I wrote in parks and cafes, on the subway and trains, in Laundromats and waiting rooms, in cemeteries, shrines and temple grounds, ad well as at my kitchen table, always aiming to pay careful attention to the sensory details of my surroundings." She visited with shopkeepers, observed people making tatami mats and brushes, and took Japanese dancing lessons. By making herself a temporary home in Japan and participating in the community, she was able to gain insight into the quotidian life as no short term tourist could.
―
Robert Michael Pyzocha, Production Designer
September 28, 2002-March 27, 2003
Robert is a production designer who has done extensive work in set and stage design throughout the United States and Europe. His reason for coming to Japan was to investigate the visual language of traditional Japanese shrine and temple architecture. He visited many temples, shrines, museums and important cultural sites, but he also created a network of acquaintances in the Japanese theatrical world; meeting theater directors, stage designers and technical directors. Through his visits to theaters and various studios, including television studios he was able to observe first-hand the difference in production techniques and values between the US and Japan.
―
Elizabeth Mead, Scene designer
October 2, 2002-April 1, 2003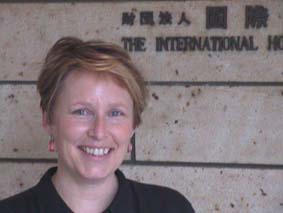 Elizabeth taught at Portland State University An artist and scene designer, Elizabeth came to Japan "to look at space. My time there was spent traveling and documenting various towns and cities through photographs and making work in the studio." She found an inexpensive small studio and living space, Youkobo, in Tokyo operated by a couple who work in organizing and supporting the arts. She utilized this ideal space to the maximum: creating many works of art and even putting together a one-woman show, sponsored by the IHJ Artists' Forum, at Youkobo before her departure. She also participated in the Tachikawa International Art Festival, was a resident at the Ohyama Danchi Center and conducted workshops in the Tachikawa Public school system. She visited and photographed extended examples of architecture, from the avant garde design of the modern architect Ban Shigeru, the ancient temples and shrines of Kyoto to the old, derelict building of the Tokyo suburbs. Her eyes, hands and sensibilities never resting, she embarked on trips to Shikou and the Isamu Noguchi museum, the Naoshima Contemporary Art Museum, the Edo period architecture of Kaurashiki in Okayama Prefecture, the great Buddha in Kamakura, and the Hiroshige Ando museum in Bato, north of Tokyo.She spent an evening in the studio of the great butoh dancer Ohno Kazuo. She notes that her experiences in Japan "will surely present themselves quietly for the rest of my life."
―
Perry Yung, Musician
Oct. 19, 2002- April 18, 2003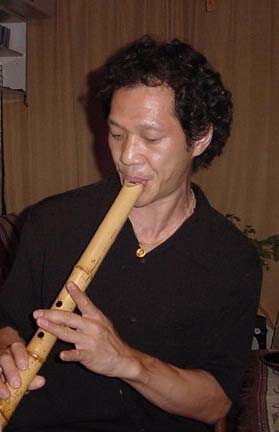 Perry is a native of the San Francisco Bay Area who now lives and works in New York City. He has performed with modern dance and ballet companies, numerous theatrical groups and artists and exhibited his mixed media installations. He is also the creator of SLANT Performance Group, consisting of three Asian men from three different Asian ancestries-China, Japan and the Philippines-who weave together their histories and individualities in highly creative performances of movement, visuals and music.
Perry came to Japan primarily to refine his shakuhachi making and performance skills. He worked with various shakuhachi performers and a shakuhachi maker. In the process of his studies, he also became interested in butoh dance and did an extensive collaboration, Umi Yo Umi Yo! combining his music, pantomime and performance with such artists as shakuhachi maker/performer Kinya Sogawa and legendary butoh dancer Kazuo Ohno and son Yoshito. Perry also undertook an Artists' Forum presentation at the I-House where he actually created a shakuhachi as part of the performance. Perry's shakuhachi are becoming more and more popular amongst American shakuhachi players.
Slant's website is
―
Nandlal Nayak, Composer/Musician
Dec. 18, 2002- May 17, 2003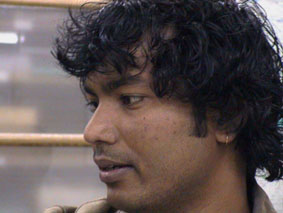 Nandlal is a composer/musician who has had extensive training in southern Indian Carnatic style, traditional Nagpuri vocals, music and dance, and the Chhau dance-drama stlye. He has composed and performed extensively around the world. He came to Japan to learn about Japanese drumming rhythms. According to Nandlal, "each tradition hears rhythm differently, and working with various musicians has helped me to hear the spaces between my own rhythms and to come to a deeper understanding of the possibilities of percussive sound." During his residency in Japan, he undertook an extensive collaborative project HANDS-Drumming Project, with various Japanese musicians, blending the Japanese and Indian traditions. Nandlal chose artists trained in both the classical and modern idioms. The artist included a koto and shakuhachi player, a taiko and pop drummer, an electronic musician and a bass guitarist. Nandlal also brought over two gypsy folk musicians from Rajistan, India, especially for the concert.
HANDS-Drumming Project, held in the International House of Japan gardens, blended various rhythms from India, Japan and the west. Melodic fragments, reminiscent of local folk tunes, weaved their way into the music as new possibilites for ancient instruments were explored. American-based dancer/choreographer Wendy Jehlen gathered together a small troupe of Japanese dancers to accompany the music.
―
---
For profiles and photos of previous artists, please click on the year
|2018|2017|2016|2015|2014|2013|2012|2011|2010|2009|2008|2007
|2006|2005|2004|2003|2002|2001|2000|1999|1978-1998
|Artists' Profiles TOP| JAPANESE
---