Sawako Nakayasu, Writer, Poet
April 29-October 28, 2003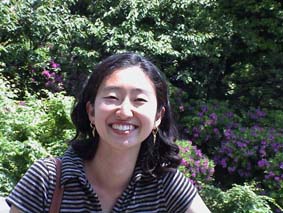 Sawako is a Japanese-American writer and poet, much of whose work has been written with a feminist approach. In Japan she sought to engage and create work alongside Japanese women and gain deeper insight into the evolving challenges that women face both in the US and Japan. Before arriving, she wrote "In Japan, I hope to expose myself to a wide range of poets working with both traditional and contemporary paradigms. Some of my own recent poetry performances have incorporated the use of digital media, and I feel enthusiastic about meeting Japanese artists who are using new technology in their work. The field of electronic poetry is still in its emerging phases, and Japan would be an ideal place to push forth new ideas in this genre." With support from the collaboration grant, she presented a fascinating performance project involving poetry (both in English and Japanese), live and recorded music, dance and electronic visuals.
―
Ellen Oppenheimer, Quilt Maker
June 15-December 15, 2003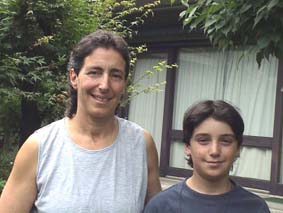 Ellen is a professional craftsperson who came to Japan to study and document traditional Japanese textiles, specifically those techniques which have bearing on and influence her own work. Among those techniques are the katazome style using a rice-paper stencils and shibori tye-dyeing. She also re-established ties with various Japanese quilters she met while visiting the country in 1997, especially with quilters who use old kimono fabric in their works..Ellen and Japanese quilt maker Yoko Ueda presented two quilts, done in collaboration, at an IHJ Artists' Forum on November 25th. Their quilts were on display in the I-House lobby for ten days preceeding and following the Forum.She is pictured shortly after arrival in Japan with her 10 year old son, Ari.
―
Bruce Gremo, Musician/Composer
September 7-February 26, 2004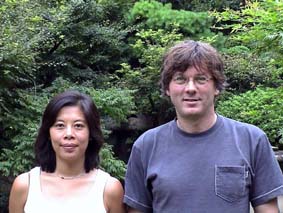 Bruce is a musician/composer who plays shakuhachi. He came to Japan to deepen his knowledge of the instrument and its culture. In October, 2003, hel presented a new shakuhachi solo at the Fukuoka Gendai Hogaku Festival and other festivals in Osaka and Tokyo. He also worked on interactive compositions involving the shakuhachi, sho and computer, and sought out Japanese composers bridging traditional Japanese music with contemporary and experimental interests. He resided primarily in Tokyo, attending musical events and working on compositions, but spent the final two months of his grant in Kyoto. He is pictured here with his wife, broadcast producer Hsiang-Yin Yeh.
―
Thomas Beale, Sculptor
October 8, 2003-July 14, 2004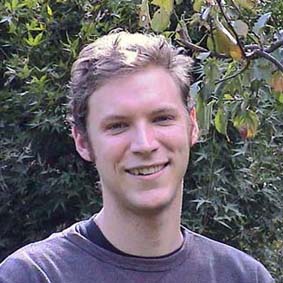 Thomas is a sculptor who is deeply concerned in ways a structure can create sensation. He creates work that is sensual in nature with unknown or strange objects, but which maintain the sense of familiarity and attraction. His residency in Japan focused primarily upon visual, experiential research of traditional Japanese architecture. He will visited various sites of traditional Japanese wood architecture throughout the country to "investigate all manners of traditional architecture, from teahouses to shrines to temples, and I will keep a visual journal of my observations and experiences." He mainly resided in Kyoto, and while there participated in a collaborative project with Kyoto based urushi artist Takeshi Igawa.
―
---
For profiles and photos of previous artists, please click on the year
|2018|2017|2016|2015|2014|2013|2012|2011|2010|2009|2008|2007
|2006|2005|2004|2003|2002|2001|2000|1999|1978-1998
|Artists' Profiles TOP| JAPANESE
---