Raymond Sandoval, Composer/Musician
March 30–September 30, 2004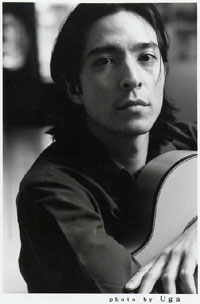 Raymond, a composer/musician whose is half Japanese, has "been preparing for this cultural journey my entire life, to explore the roots of my Japanese mother's family in an effort to better understand her and the Japanese society." While in Japan, Raymond intends to embark on a project of entitled "Folk Tales," which will be based on oral traditions handed down from Numata City in Gunma Prefecture (his mother's hometown) and Fussa City in West Tokyo, home of the Yokota US airbase where his father was stationed and met Raymond's mother. Raymond plans to conduct a series of interviews utilizing video with his mothers family and friends about the Japanese society, history and culture during pre and post World War II. He will compose music based upon these experiences and stories and ultimately make a documentary with music being a central role.
His website can be viewed at
―
R. Zamora Linmark, Writer
November 3, 2004 – May 3, 2005
Zamora is a writer born in the Philippines. His project in Japan is to "research and write a novel detailing the lives of Filipino entertainers in Japan, exploring their relations with each other and the Japanese people, culture, language and landscape, and how popular culture–via Filipino entertainers–plays an instrumental role in the triangular relationship and cultural exchanges and understanding between Americans, Japanese and Filipinos." While in Japan he will contact and interview members of the Japanese-Filipino community, mostly through the auspices of the Center for Japanese-Filipino families, an institution who will be assisting Zamora during his residency.
―
Laure Drogoul, Sculptor/Installation Artists
July 22, 2004–January, 2005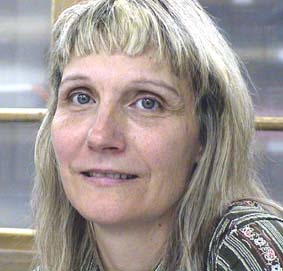 Laure is a sculptor/installation artist from New Jersey. Her residency in Japan will focus on two different areas: the design and manufacture of traditional lantern making and a study of popular images of Japan and their sources, particularly in the realm of traditional figurative iconography and the contemporary Japanese hero/heroin roles as seen in anime, manga and action figures. Her recent works consist of large scale wooden framed luminous sculptures. Like the lanterns, they are forms which are "typical of the popular culture yet deeply rooted in history and traditional iconography."
Her website can be viewed at
―
Adam Frelin, Visual Artist
August 17, 2004–February, 16, 2005

Adam is "a visual artist who creates sculptural installations and objects for predetermined locations." The main objectives of his fellowship are to visit Japanese gardens, study traditional and contemporary Japanese garden design, meet people in the fields of art and landscape architecture and travel around the country specifically to see the landscape. He plans to reside in Kyoto, a city with one of the largest concentrations of gardens in the world. Although these gardens are visually stunning, it is mainly the strategic elements implemented in their creation which interests Adam. His residency in Japan will be spent immersed in the contemplation of gardens and meeting people in the fields of landscape design and architecture.
His website can be viewed at
―
Iona Brown, Painter, Video and DJ artist
February 7 – August 6, 2005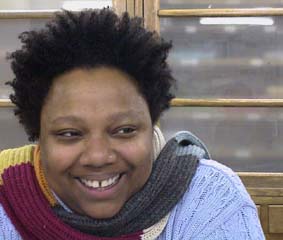 Iona, a painter, video and dj (disc jockey) artist from Washington D.C., has been researching and painting the ganguro phenomena of Japanese youth who perm their hair into afros and artificially tan themselves into a deep mahogany color to imitate African Americans. During her residency, she will work to try to understand why so many Japanese youth emulate black culture, with the ganguro phenomena as a focal point. She plans to reside in Osaka, where she visited briefly a few years ago, to experience and study some of the traditional narrative theater traditions of Japan, such as kabuki and bunraku. One project she has in mind is creating a play about ganguro in the style of kabuki in which djs and their turntables are used instead of the shamisen and percussion debayashi stage music.
―
---
For profiles and photos of previous artists, please click on the year
|2018|2017|2016|2015|2014|2013|2012|2011|2010|2009|2008|2007
|2006|2005|2004|2003|2002|2001|2000|1999|1978-1998
|Artists' Profiles TOP| JAPANESE
---