Greg Hrbek, Writer
April 1-August 1, 2012 (March 9-16, 2011)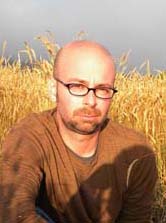 Greg is presently a writer-in-residence at Skidmore College. His writings include the novel The Hindenburg Crashes Nightly (William Morrow, 1999), which won the James Jones First Novel Award, and several short fiction pieces which have been published in Harper's Magazine, Salmagundi, the Idaho Review and the Black Warrior Review. His short story "Sagittarius" was included in The Best American Short Stories 2009 and his short fiction piece "Bereavement" was a finalist for the 2007 Robert Olen Butler Prize. Greg was also awarded an Iowa Arts Fellowship (1993), a James A. Michener Fellowship (1995), and an Alfred Hodder Fellowship at Princeton (2000).
During his residency, Greg will continue research for his current novel about Japanese colonists living in Micronesia during World War II. He plans to consult historians who have written about Japan's historical connection with the South Seas and research the extent of Japan's involvement with Micronesia during the war. He will also visit Okinawa to study the home of one of the characters in his novel.
(Due to the March 11 earthquake in 2011, Greg has temporarily suspended his residency but retuned to Japan in April 2012 to finish it.)
―
Jane Lackey , Visual Artist
April 3 – Augusut 25, 2011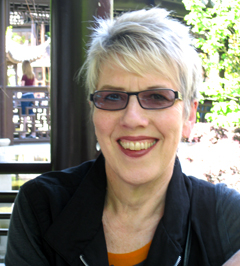 Jane is a visual artist based in Santa Fe, New Mexico. Her works on paper, paintings and installations are informed by their relationships to subjects that arise from our physical systems. She was awarded a Grant for Artists Projects by the Artists Trust of Seattle, Washington in 2008 and a Visual Artist Fellowship and Residency by the Camargo Foundation in France in 2005. Her works have been reviewed in the Chicago Tribune, The New Yorker and Art in America, and published in the recent books The Map as Art and Hot House, Expanding the Field of Fiber at Cranbrook. Jane has been an Artist-in-Residence at Cranbrook Academy of Art and guest teaches at venues across the nation, from the Haystack School of Crafts in Maine to the University of Washington.
During her residency, Jane resided in Kyoto and traveled to nearby Buddhist and Shinto pilgrimage circuits, including the famous 88 temple pilgrimage circuit in Shikoku. She focused on relationships of spatial circuitry, physical movement and perception within the paths and undertook a study of the form, tactility and the extreme physical qualities of handmade paper and cloth. During the end of her fellowship, she and her husband, interior architect Thomas Lehn, presented an Artists' Forum at the I-House in Tokyo entitled "Circular Traces."
―
Mary Lucier, Video Artist
March 1 – August 29, 2011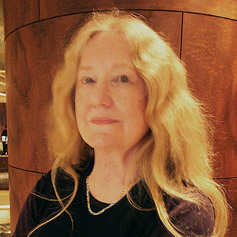 Mary is an accomplished video artist with an extensive portfolio of one-person shows, group exhibitions, grants, awards and fellowships. A few of her achievements include a 2010 United States Artist Fellowship, a 2007 Skowhegan Medal for Video, a Rockefeller Foundation Fellowship and a Nancy Graves Foundation Grant for Visual Artists. Recently, she presented solo exhibitions at the Birmingham Museum of Art, the Amon Carter Museum in Texas, Lennon, Weinberg, Inc. in New York, and the University of Michigan Art Museum. Mary has also participated in group exhibitions at NGBK in Berlin, the Milwaukee Art Museum and the Museo Nacional Reina Sofia in Spain, among others.
During her residency, spent in Kyoto, Mary created a new, multi-channel video installation centered on one of Japan's oldest and most culturally influential (yet little known) Japanese institutions, the Imperial Buddhist Convents of Kyoto and Nara. The final work explores the lives of Buddhist nuns and their space within buildings and gardens of ancient origins.
(photo by Noriko Koshida)
―
Michelle Nagai, Composer
October 1, 2011-March 1, 2012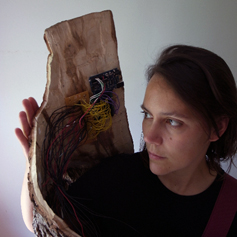 Michelle is currently a graduate fellow in composition at the Department of Music at Princeton University. Her recent works include Ordinary Music for Birth, Death and Life/Part 1 & 2, Long Summer and Elements 1-8. Michelle's music has been performed in festivals around the world, from the Observatori Festival in Spain to the Ear to the Earth Festival in New York, and has earned her two Individual Artist Grants from the New York State Council on the Arts. She has also been Artist-in-Residence at the Interdisciplinary Laboratory for Art in New York, free103point9 Wave Farm in New York, and The Exploratorium Museum of Science and Art in California, among others.
During her residency, Michelle plans to work on The Seed Project, a large scale musical work that will pair small town life in New Hampshire with thematic and formal elements inspired by Edo Period goze culture and performance practice in Japan. Goze were blind women, usually orphaned and indigent, who sang and played shamisen in the remote villages in Japan. Michelle plans to meet a student of one of the last goze and continue her study of the dynamic relationship between performer, audience and environment.
―
Shay Youngblood, Visual Artist/Writer
March 13-June 26, 2012 (March 3-16, 2011)
Shay is presently a writer-in-residence at Texas A&M University. She has also taught at the University of Mississippi, New York University and several other universities across the country. She has published two novels (Black Girl in Paris, Soul Kiss, Riverhead, 2000) and numerous articles, short stories, plays and poems. Shay has received a Sustained Achievement Award from the New York Foundation for the Arts, the Astraea Award for Fiction, and the Kennedy Center's Lorraine Hansberry Playwriting Award, among others.
During her residency, Shay will work on a new novel, Add Architecture, Stir Memory, about a young woman of African American and Japanese ancestry living in Hawaii and serving as a volunteer aide to an elderly Japanese woman. She will research notable architectural sites and works by prominent Japanese architects to address her novel's central theme of the destruction and construction of memory through architecture.
(Due to the March 11 earthquake in 2011, Shay has temporarily suspended her residency but retuned to Japan in March 2012 to finish it.)
―
---
For profiles and photos of previous artists, please click on the year
|2018|2017|2016|2015|2014|2013|2012|2011|2010|2009|2008|2007
|2006|2005|2004|2003|2002|2001|2000|1999|1978-1998
|Artists' Profiles TOP| JAPANESE
---